Publication:
Technical appendix to cost reduction and consumer search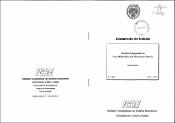 Authors
Advisors (or tutors)
Editors
Publisher
Facultad de Ciencias Económicas y Empresariales. Instituto Complutense de Análisis Económico (ICAE)
Abstract
This text is a self-contained formal exposition of the dynamic model discussed in Pereira (98). I develop the model in section 2 and in section 3 I characterize equilibrium. In section 4 I do comparative statics.
Citation
Bagwell, K. & Ramey, G. (1996): "Coordination Economies, Sequential Search and Advertising", U.C.S.D discussion paper, 96-04. DeGroot, M. (1970): "Optimal Statistical Decisions", MeGraw-Hill. Hey, J. (1979): "A Simple Generalized Stopping Rule", Economics Letters, 2, 115-20. Kreps, D. & Wilson, R. (1982): "Sequential Equilibria", Econometrica, 50,863-894. Morgan, P. & Manning, R. (1985): "Optimal Search", Econometrica, 53, 923-944. Pereira, P. (1998): "Cost Reduction and Consumer Search", Instituto Complutense de Análisis Económico, Documento de Trabajo, # 9805.