Publication:
Guía didáctica para la elaboración de un trabajo filosófico práctico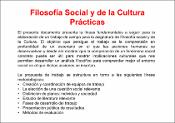 Advisors (or tutors)
Editors
Abstract
El presente documento presenta la líneas fundamentales a seguir para la elaboración de un trabajo de campo y una reflexión filosófica sobre el objeto de estudio. El objetivo que persigue el trabajo es la comprensión en profundidad de un escenario en el que las acciones humanas se desenvuelvan y desde ahí mostrar que la comprensión de un fenómeno social concreto puede ser útil para mostrar implicaciones culturales que nos permiten desarrollar un análisis filosófico para comprender mejor el entorno social en el que dichas acciones se insertan.
This document presents the fundamental lines to be followed for the preparation of a fieldwork and a philosophical reflection on the object of study. The objective pursued by the work is the in-depth understanding of a scenario in which human actions unfold and from there show that the understanding of a specific social phenomenon can be useful to show cultural implications that allow us to develop a philosophical analysis to understand better the social environment in which these actions are inserted.