Publication:
TAGS measurements of ¹⁰⁰Nb ground and isomeric states and 140¹⁴⁰Cs for neutrino physics with the new DTAS detector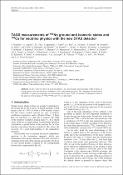 Advisors (or tutors)
Editors
Abstract
In this work we report on total absorption γ-ray spectroscopy measurements of the β decay of fission products that are important contributors to the antineutrino spectrum. The experiment was performed at IGISOL as a part of a campaign of measurements with the new DTAS spectrometer. Preliminary results of the analysis of the β decay of ¹⁰⁰Nb, ¹⁰⁰Nb and ¹⁴⁰Cs are presented.
Description
© The Authors, published by EDP Sciences. International Conference on Nuclear Data for Science and Technology (ND) (2016. Bruges, Belgica). This work has been supported by the Spanish Ministerio de Econom´ıa y Competitividad under the FPA2011-24553, the AIC-A-2011-0696, the FPA2014-52823-C2-1-P and the SEV2014-0398 Grants, by the European Commission under the FP7/EURATOM contract 605203, and by the Spanish Ministerio de Educacion under the FPU12/01527 Grant. Articulo firmado por más de diez autores
Collections