Publication:
Dynamic optimization with asymetrical penalties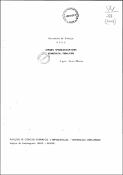 Files
Authors
Advisors (or tutors)
Editors
Publisher
Facultad de Ciencias Económicas y Empresariales. Decanato
Abstract
In this paper we discuss about dynamic programming models with a quadratic objetive function. An extension is suggested to relax the hypothesis of symmetric penalties. The extended model allows for a more accurate modelling of preferences.
Citation
Ghow, G., 1975, Anaysis and control of dynamic economic systems (John Willey & Sons, New York). Friedman, B.M., 1972, Optimal economic stabilization policy: an extended framework, Journal of Political Economy, 80, 1002-1022. Kendrick, D.A., 1988, Feedback: a new framenwork for macroeconomic policy (Kluwer Academic Publishers, Dordretch). Lee, Sang M., 1972, Goal programming for decision analysis (Auerbach Publishers, Philadelphia). Wolfe, P., 1959, The simplex method for quadratic programming, Econometrica, 27, 382-398.