Publication:
Anorexia nerviosa y Bioética: un estudio con profesionales de la salud mental sobre internamiento involuntario y capacidad del paciente para la toma de decisiones de tratamiento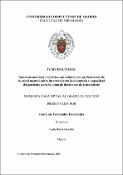 Files
Authors
Advisors (or tutors)
Editors
Publisher
Universidad Complutense de Madrid
Abstract
Una de las características de la anorexia nerviosa es que quienes la manifiestan rechazan a menudo el tratamiento a pesar del peligro que ello supone para su salud y niegan el problema o parecen presentar dificultades para apreciar la gravedad de su situación. Esto plantea un importante problema bioético y legal, situando a los profesionales de la salud mental ante la dificultad de conjugar el respeto por la autonomía del paciente y el deber de procurarles la salud. Síntesis: el objetivo de esta tesis, presentada como compendio de cuatro publicaciones, fue explorar los fundamentos de acción de los profesionales de la salud mental en España ante el rechazo al tratamiento de pacientes con anorexia nerviosa (publicación 1), así como cuantificar y comparar sus actitudes ante el internamiento involuntario y la capacidad (publicación 2) y otros aspectos vinculados a la prestación asistencial (publicación 3).La publicación 1 plasma un estudio cualitativo con metodología de teoría fundamentada en el que siete psiquiatras, cuatro psicólogas clínicas y una psicóloga residente de tercer año fueron entrevistados. Los resultados muestran que estos profesionales articulan la atención del paciente en torno a una categoría principal, a saber, el internamiento como último recurso y la búsqueda de la voluntariedad. Ello supone un cambio en la dinámica asistencial con respecto a la situación en que la situación física del paciente es menos acuciante. En torno a esa categoría central se erigen algunos conceptos importantes; estrés de rol (causa del cambio), coerción informal (mecanismo del cambio), peso (disparador del cambio) y familia y cronicidad (modificadores de decisión). Se concluye que la dificultad de conciliar demandas profesionales puede suponer un menoscabo en la calidad asistencial y en la propia satisfacción laboral, lo que obliga a reflexionar e investigar sobre los fundamentos de las atribuciones asumidas...
One of the characteristics of anorexia nervosa is that those who suffer from it often refuse treatment despite the danger that this poses to their health and deny the problem or seem to have difficulties in appreciating the severity of their situation. This raises an important bioethical and legal problem, since it places mental health professionals before the difficulty of combining respect for the autonomy of the person and the duty to provide for their health.Summary: The aim of this doctoral thesis, articulated on a compendium of publications, was to explore the basis for action of mental health professionals in Spain in the face of the refusal of treatment of patients with anorexia nervosa (publication 1), as well as to quantify and compare their attitudes towards involuntary commitment, capacity (publication 2) and towards other aspects related to the provision of medical care (publication 3).Publication 1 presents a qualitative study with a grounded theory methodology in which seven psychiatrists, four clinical psychologists and a third-year resident psychologist were interviewed. The results showed that these professionals articulate patient care around a main category, namely, involuntary hospitalization as a last resort and the search for willingness. This implies a change in the healthcare dynamics with respect to the situation in which the patient's physical condition is less pressing. Around this central category some important concepts emerge; role stress (cause of change), informal coercion (mechanism of change), weight (trigger of change) and family and chronicity (decision modifiers). It is concluded that the difficulty of reconciling professional demands can imply a reduction in the quality of care and in job satisfaction itself, which forces us to reflect and investigate the foundations of the assumed attributions...
Description
Tesis inédita de la Universidad Complutense de Madrid, Facultad de Psicología, leída el 21-04-2022
Collections