Publication:
Propagation of partially coherent truncated polymorphic beams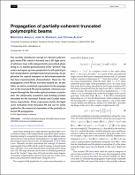 Advisors (or tutors)
Editors
Publisher
Optical Society of America
Abstract
The recently introduced concept of coherent polymorphic beam (PB), which is focused into a 2D light curve of arbitrary form with independently prescribed phase along it, is a fruitful generalization of the "perfect" ring vortex and opens up new perspectives in all-optical particle manipulation and light material processing. Its application for optical transport of micro/nano-particles has been experimentally demonstrated. However, the propagation of the PB has not been studied yet. In this Letter, we derive analytical expressions for the propagation of the truncated PB and its partially coherent counter-part through the first-order optical systems, in particular, the rotationally symmetric and twisting systems described by the fractional Fourier and Gyrator transforms, respectively. These expressions clarify the light-curve formation from a truncated PB and can be easily applied for the numerical simulation of the partially coherent PB propagation
Description
© 2019 Optical Society of America. Ministerio de Economia y Competitividad (MINECO) (TEC2014-57394-P); Banco Santander (PR75/18-21567); Universidad Complutense de Madrid (UCM) (PR75/18-21567).
Collections