Publication:
Attitudes and impact of peer review inside group work in Spanish higher education: a case study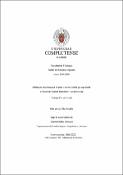 Authors
Advisors (or tutors)
Editors
Abstract
The present research paper intends to make a contribution investigating the topic of peer review in group work focusing on Spanish higher education students. The purpose of the study is to analyse the function of peer review in group dynamics. The research has been carried out during the optional subject "Teaching Methodology of EFL" in the English Studies degree at Universidad Complutense de Madrid. This subject took place during the second semester of the academic year 2019-2020, when the Covid-19 crisis was also happening. As a result of the preventive measures settled by the government, inclass teaching was suspended, and group work could not be done face to face. Therefore, that was taken into consideration when carrying out the research and included as a factor that affected group work and peer review. The study is empirical and follows a mixed method approach in which qualitative and quantitative data complement each other. There was a total of sixty-two participants (N=62), 48 female and 14 male. The data-gathering tool were three questionnaires which were distributed throughout the semester. Quantitative data is given by numerical questions in the form of Likert scales, while qualitative data was collected through open evaluative questions. In essence, the results of the research lead to the conclusion that, even if the dynamics are not completely reliable, peer review has a positive impact on group dynamics in the Spanish academic context. Promoting a peer review methodology encouraged students to improve their ingroup communication and give feedback to each other, increasing this way students' commitment towards the group and reducing social loafing.