Publication:
Indigenous art at the Philippine Exposition of 1887: arguments for an ideological and racial battle in a colonial context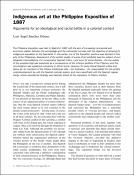 Advisors (or tutors)
Editors
Abstract
The Philippine Exposition was held in Madrid in 1887 with the aim of increasing commercial and economic relationships between the archipelago and the metropolis, but also with the objective of showing its indigenous population to the Spaniards. In this sense, one of the exposition sections was devoted to Philippine fine arts. Artistic quality of works of art exhibited was subjected of very dissimilar interpretations. For conservative Spanish critics --and even for some liberals--, woodcarvings limited artistic level was a consequence of scarce Filipinos abilities and capacities, and this circumstance was merely explained by ethnic reasons. However, for some liberal Spanish critics and, above all, for members of Filipino intellectual elite --the ilustrados--, the responsibility of this artistic underdevelopment relapsed into the Spanish colonial system, and more specifically into the Spanish regular clergy, whose educational practice had as a basic objective the repression of Philippine intellect.
Collections