Publication:
El crecimiento de la población española, 1700-1849: índices regionales y nacional de bautismos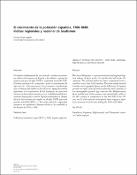 Authors
Advisors (or tutors)
Editors
Abstract
El objetivo fundamental de este artículo consiste en presentar índices de bautismos de España y de todas las regiones de nuestro país para el siglo XVIII y la primera mitad del XIX. El índice nacional se ha construido a partir de una muestra de algo más de 1.050 parroquias. Las principales conclusiones que se infieren del análisis de las cifras más agregadas son las siguientes: 1) el crecimiento de los bautismos se concentró bastante en fases relativamente cortas; 2) el diferencial de crecimiento demográfico entre la España mediterránea y el resto del país fue bastante más amplio en el siglo XVIII que en la primera mitad del XIX; y 3) las series nacional y regionales apuntan a un significativo descenso de la tasa de natalidad en las décadas de 1830 y 1840.
The aim of this paper is to present national and regional baptism indexes of Spain in the 18th and the first half of the 19th centuries. The national index has been constructed from a sample of more than 1,050 parishes. The main results derived from the most aggregate figures are the following: 1) baptism growth was quite concentrated in relatively short periods; 2) the demographic-growth gap between the Mediterranean Spain and the rest of the country was substantially wider in the 18th century in comparison to the first half of the 19th one; and 3) both national and regional series suggest a significant decrease in birth rates during the 1830s and 1840s.
Collections