Publication:
Factores biológicos y eficacia clínica de la fotoféresis extracorpórea en el tratamiento de la enfermedad injerto contra receptor refractaria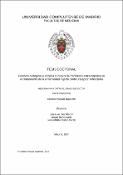 Files
Authors
Advisors (or tutors)
Editors
Publisher
Universidad Complutense de Madrid
Abstract
La enfermedad injerto contra receptor aguda y crónica (EICR aguda, EICR crónica), que se produce en algunos pacientes después del trasplante hematopoyético alogénico (TPH), es una complicación que confiere una gran morbi-mortalidad. El tratamiento estándar se realiza con corticoesteroides (CT) a altas dosis, pero sólo responden un 35% de los pacientes. En los pacientes que no responden, la segunda línea de tratamiento no está bien definida y en los últimos años la Fotoféresis Extracorpórea (FEC), un tipo de terapia celular con efecto inmunomodulador, ha demostrado ser un tratamiento eficaz y seguro en esta patología en pacientes adultos y pediátricos sin efecto inmunosupresor. Las guías internacionales actuales sobre el tratamiento de la EICR recomiendan su utilización con altos grados de evidencia sobre todo en la afectación cutánea. A pesar de los grandes avances realizados en esta terapia, continuamos sin conocer múltiples aspectos relacionados con factores biológicos y clínicos, como son el mecanismo exacto de acción, la dosis de celularidad eficaz y el esquema terapéutico óptimo. A finales del año 2009 iniciamos esta terapia a los pacientes con EICR aguda y crónica refractarios o dependientes del tratamiento con CT. El principal objetivo en este trabajo fue analizar la celularidad, en términos de células mononucleares (CMN) y de subpoblaciones linfocitarias (SPL), de los productos infundidos y su correlación con los valores de celularidad pre-aféresis de los pacientes. Adicionalmente se valoró el efecto de la FEC en la reconstitución inmune y la respuesta clínica en los pacientes estudiados...
Allogeneic hematopoietic cell transplantation (HCT) is a curative therapy for many malignant and non-malignant hematological diseases. Graft-versus-host disease (GvHD) is one of the most important complications of allogeneic HCT. It is an immune-mediated, potentially life-threatening syndrome in which host tissues are attacked by donor immune cells including T cells, natural-killer cells and macrophages. GvHD can occur in 30–50% of transplanted patients with either an HLA-identical related or an unrelated donor, and the incidence rates are substantially higher in recipients of HLA-mismatched stem cell grafts. Acute and chronic graft versus host disease (aGvHD, cGvHD), which occur in some patients after allogeneic stem cell transplantation (HSCT) is a complication that confers major morbidity and mortality. The standard treatment of GvHD is based on high-dose steroids, but it only achieves response in 35% of the patients. At the present time, there is not a well defined second line treatment for those who do not respond. In recent years, extracorporeal photopheresis (ECP) therapy has proven to be an effective and safe treatment in this disease in both adult and pediatric patients. This therapy was approved by the FDA in 1988, after the work of Edelson et al demonstrating its efficacy in the treatment of cutaneous T lymphoma. In this technique, the mononuclear cells of the patient are first collected by apheresis, and after the incorporation of 8-metoxypsoralen (8-MOOP), the product is irradiated and reinfused to the patient...
Description
Tesis inédita de la Universidad Complutense de Madrid, Facultad de Medicina, leída el 28-01-2016
Collections