Publication:
Gravitational Interactions in Dark Matter Models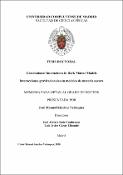 Files
Advisors (or tutors)
Editors
Publisher
Universidad Complutense de Madrid
Abstract
The cosmological standard model includes a dark sector in order to explain the current observations. This dark sector includes all the constituents of the universe that are not described by the standard model of particle physics, which presence is only inferred from gravitational interactions. The currently most accepted model introduces a cosmological constant to account for the late expansion of the universe and cold dark matter to explain the dynamics of the universe. These two components, along with the already known fields, constitute the CDM model, which successfully fits different cosmological observations at different scales. However, there is a lot of uncertainty concerning the fundamental properties of this dark sector...
El modelo cosmológico estándar incluye un sector oscuro para poder explicar las observaciones que tenemos. Este sector incluye todos los constituyentes del universo no descritos por el modelo estándar de física de partículas, cuya presencia solo se infiere mediante interacciones gravitacionales. Actualmente, el modelo más aceptado incluye una constante cosmológica para explicar la expansión acelerada tardía del universo y materia oscura fría para explicar la dinámica del universo. Estas dos componentes, junto con los campos ya conocidos, constituyen el modelo CDM, que ajusta con éxito un gran número de observaciones cosmológicas a diferentes escalas. Sin embargo, muy poco se conoce de las propiedades fundamentales de este sector oscuro...
Description
Tesis inédita de la Universidad Complutense de Madrid, Facultad de Ciencias Físicas, leída el 21-12-2020
Collections