Publication:
¿De qué hablamos cuando hablamos de tecnología?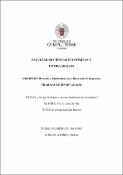 Authors
Advisors (or tutors)
Editors
Abstract
Este trabajo trata sobre los principales problemas planteados por el reto tecnológico y sobre cómo el comportamiento del internauta puede agravar sus efectos. Con el objetivo de dar respuesta a la interrogante planteada en el título: "¿De qué hablamos cuando hablamos de tecnología?", se estudian sus implicaciones negativas así como los hábitos de consumo y las conductas de los jóvenes usuarios en la red. A tales efectos, se realiza un análisis desde una perspectiva económica, política y social de todos los problemas provocados por estas nuevas tecnologías, y sus repercusiones en los distintos grupos de edad de nuestra sociedad. En segundo lugar, por medio de una encuesta, se ha realizado una investigación sobre las conductas y el grado de conocimiento en materia de privacidad de datos y seguridad digital de los jóvenes universitarios en España. De esta manera, queda demostrado que a pesar de las muchas habilidades digitales que se les achacan a estos usuarios, existe una ignorancia generalizada sobre el tratamiento de sus datos personales por terceros, razón por la que toman conductas temerarias en Internet que atentan contra su privacidad en la red.
This study deals with the main problems caused by the technological challenge and how Internet user behavior can aggravate its effects. Its main negative implications, the consumption habits and behaviors of young users on the Internet will be studied. Also, it includes an analysis from an economic, political and social perspective of all its problems and its repercussions on the different age groups in our society, to be able to answer the question "What do we talk about when we talk about technology?". Through a survey of 300 students, we have investigated the behaviors and level of knowledge about data privacy and digital security. In this way, it is proven that the fact of having many digital skills does not mean there is not a widespread ignorance about the processing of their personal data, which is why they take reckless behaviors on the Internet that violate their privacy.