Publication:
Aperiodic crystals in biology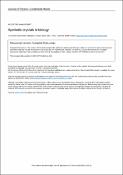 Advisors (or tutors)
Editors
Abstract
Biological systems display a broad palette of hierarchically ordered designs spanning over many orders of magnitude in size. Remarkably enough, periodic order, which profusely shows up in non-living ordered compounds, plays a quite subsidiary role in most biological structures, which can be appropriately described in terms of the more general aperiodic crystal notion instead. In this topical review I shall illustrate this issue by considering several representative examples, including botanical phyllotaxis, the geometry of cell patterns in tissues, the morphology of sea urchins, or the symmetry principles underlying virus architectures. In doing so, we will realize that albeit the currently adopted quasicrystal notion is not general enough to properly account for the rich structural features one usually finds in biological arrangements of matter, several mathematical tools and fundamental notions belonging to the aperiodic crystals science toolkit can provide a useful modeling framework to this end.
Description
©2022 IOP Publishing Ltd I warmly thank M. Victoria Hernández for a critical reading of the manuscript.
Collections