Publication:
Fast optimized Monte Carlo phase-space generation and dose prediction for low energy x-ray intra-operative radiation therapy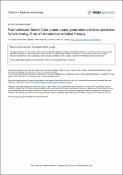 Authors
Valdivieso Casique, M. F.
Advisors (or tutors)
Editors
Abstract
Low energy x-ray intra-operative radiation therapy (IORT) is used mostly for breast cancer treatment with spherical applicators. X-ray IORT treatment delivered during surgery (ex: INTRABEAM (R), Carl Zeiss) can benefit from accurate and fast dose prediction in a patient 3D volume. However, full Monte Carlo (MC) simulations are time-consuming and no commercial treatment planning system (TPS) was available for this treatment delivery technique. Therefore, the aim of this work is to develop a dose computation tool based on MC phase space information, which computes fast and accurate dose distributions for spherical and needle INTRABEAM (R) applicators. First, a database of monoenergetic phase-space (PHSP) files and depth dose profiles (DDPs) in water for each applicator is generated at factory and stored for on-site use. During commissioning of a given INTRABEAM (R) unit, the proposed fast and optimized phase-space (FOPS) generation process creates a phase-space at the exit of the applicator considered, by fitting the energy spectrum of the source to a combination of the monoenergetic precomputed phase-spaces, by means of a genetic algorithm, with simple experimental data of DDPs in water provided by the user. An in-house hybrid MC (HMC) algorithm which takes into account condensed history simulations of photoelectric, Rayleigh and Compton interactions for x-rays up to 1 MeV computes the dose from the optimized phase-space file. The whole process has been validated against radiochromic films in water as well as reference MC simulations performed with pen Easy in heterogeneous phantoms. From the pre-computed monoenergetic PHSP files and DDPs, building the PHSP file optimized to a particular depth-dose curve in water only takes a few minutes in a single core (i7@2.5 GHz), for all the applicators considered in this work, and this needs to be done only when the x-ray source (XRS) is replaced. Once the phase-space file is ready, the HMC code is able to compute dose distributions within 10 min. For all the applicators, more than 95% of voxels from dose distributions computed with the FOPS+hybrid code agreed within 7%-0.5 mm with both reference MC simulations and measurements. The method proposed has been fully validated and it is now implemented into radiance (GMV SA, Spain), the first commercial IORT TPS.
Description
© 2019 Institute of Physics and Engineering in Medicine. This work is supported by the Comunidad de Madrid (S2013/MIT TOPUS-CM, PRONTO-CM), Spanish Ministry of Science and Innovation (FPA2010-17142), Spanish government (XIORT grant IPT-2012-0431-300000, ENTEPRASE PSE-300000-2009-5, PRECISION IPT-300000-2010-3 and FPA2015), by European Regional Funds, by CDTI under the CENIT program (AMIT Project) and by CPAN, CSPD-2007-00042@Ingenio2010. Calculations were performed in the 'Cluster de Cálculo de Alta Capacidad para Técnicas Físicas' funded in part by UCM and in part by UE under FEDER program. This is a contribution to the International Excellence Campus of Moncloa. We would like to acknowledge the support of Matthias Benker from Carl Zeiss Meditec for providing the experimental data as well as Sven Clausen and Frank Schneider for their hospitality and help during the stay of P Ibanez at Universitatsklinikum Mannheim.
Collections