Publication:
Ayudar activando. Agentes de empleo ante las ambivalencias de la "Ocupación Plena"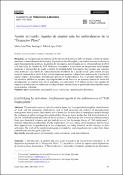 Advisors (or tutors)
Editors
Publisher
Universidad Complutense de Madrid
Abstract
La "recuperación económica" de los efectos de la crisis de 2007 en España se hubo de operar mediante la intensificación del trabajo y la precarización del empleo, y en ambos procesos tuvieron un papel fundamental las políticas de gestión del desempleo, determinadas por la reforma laboral de 2012 y la Nueva ley de Empleo de 2015. Reformas orientadas a la activación de las personas desocupadas mediante el intercambio de ayuda a cambio de empleabilidad. Son muchos los estudios que vinculan estas políticas a una suerte de "mercantilización neoliberal de la ayuda social", pero menos los que tratan de entenderlas a partir de los propios esquemas teóricos y dispositivos prácticos de la teoría del "pleno empleo" keynesiana, formalmente opuesta al neoliberalismo. Así, es posible entender cómo los servicios públicos de empleo, cuya legitimidad social deriva de su aparente función de tutela del desempleado, se orientan hoy, por el contrario, a su activación. Y el trabajo de las y los agentes de empleo se revela como un analizador privilegiado para mostrar cómo se gestionan estas contradicciones en su práctica cotidiana.
The economic recovery, after the crisis in Spain, has been operated through the intensification of work and the precarious employment, and in both processes the policies of unemployment management have played a fundamental role. Oriented to the activation of unemployed people through the exchange of aid in exchange for employability, there are many studies that link these policies to a kind of "neoliberal commodification of social assistance". But there are few who try to understand them from own theoretical schemes and practical devices of the Keynesian theory of "full employment", formally opposed to neoliberalism. Public employment services, whose social legitimacy derives from their apparent role as guardianship of the unemployed, are today oriented, on the contrary, to their activation. The work of the employment agents is revealed as a privileged analyser to show how these contradictions are managed in practice.
Collections