Publication:
Temperature chaos is a non-local effect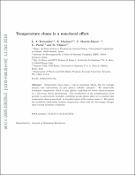 Advisors (or tutors)
Editors
Abstract
Temperature chaos plays a role in important effects, like for example memory and rejuvenation, in spin glasses, colloids, polymers. We numerically investigate temperature chaos in spin glasses, exploiting its recent characterization as a rare-event driven phenomenon. The peculiarities of the transformation from periodic to anti-periodic boundary conditions in spin glasses allow us to conclude that temperature chaos is non-local: no bounded region of the system causes it. We precise the statistical relationship between temperature chaos and the free-energy changes upon varying boundary conditions.
Description
© 2016 IOP. We thank W. Kob for calling our attention to this problem. This work was partially supported by MINECO (Spain) through Grant Nos. FIS2012-35719-C02, FIS2015- 65078-C2-1-P. DY acknowledges support by NSF-DMR-305184 and by the Soft Matter Program at Syracuse University. Our simulations were carried out on the Memento supercomputer. We thankfully acknowledge the resources, technical expertise and assistance provided by BIFI-ZCAM (Universidad de Zaragoza).
Collections