Publication:
La competitividad de Miami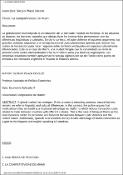 Files
Authors
Advisors (or tutors)
Editors
Publisher
Facultad de Ciencias Económicas y Empresariales. Decanato
Abstract
La globalización está forjando la construcción de un mercado mundial sin fronteras. Si las aduanas se aligeran, las barreras naturales que obstaculizan los intercambios permanecen: son las diferencias lingüísticas y culturales. En dicho contexto, el autor defiende el siguiente argumento: las grandes ciudades adquieren una ventaja locacional como plataformas óptimas que reducen los costes de transacción para hacer negocios entre territorios enclavados en espacios culturalmente diferenciados. Este es el caso de Miami, una ciudad bilingüe que ha consolidado su renta de posición como centro intercambiador entre la América Latina y la América anglosajona. Las empresas españolas también aprovechan la ventaja logística del sur de Florida como puerta de entrada a los mercados anglófono e hispano de Estados Unidos.
A global market has emerged. If this process is removing customs, natural barriers remain: we refer to linguistic and cultural differences. In that context, the author argues that multicultural cities are building a locational advantage as platforms which reduce transaction costs related to trade between countries with different cultures. This is the case of bilingual Miami as the main business center for economic and financial transactions between Latin America and the United States. Additionally, spanish businessmen also try to take advantage of Miami connection as a gate to the hispanic and english speaking US markets.
Citation
BANCO MUNDIAL (1995): Monitoring Environmental Progress, Washington, DC. COASE, R. (1937): "La naturaleza de la empresa", versión española, en R. COASE: La empresa, el mercado y la ley, Alianza editorial, Madrid, 1994, pgs. 33-49. DOSSIER DE PRENSA: "El Nuevo Herald" y "Latinolink". GROSFOGUEL, R. (1995): "Global logics in the Caribbean city system: the case of Miami", en P.L. KNOX y P.J. TAYLOR (eds.): World cities in a world-system, Cambridge University press, Cambridge, pp. 156-170. KRUGMAN, P. (1991): Geografía y comercio, Antoni Bosch editor, versión española, Barcelona, 1992. MARSHALL, A. (1920): Principles of Economics, octava edición, Mac-Millan, Londres, 1964. OHMAE, K. (1985): El poder de la triada, versión española, Editorial Mc-Graw-Hill, Madrid, 1991. OHMAE, K. (1995): The end of the nation state: the rise of regional economies, The Free Press, Nueva York. PEREZ-NIEVES HEREDERO, J.A. (1997): "Españoles e hispanos en Estados Unidos", El País, 10 de marzo, pg. 12. PORTER, M. (1990): La ventaja competitiva de las naciones, versión española, Plaza & Janés editores, Barcelona, 1991. SEN, A.K. (1994): "Etica del comportamiento y éxito económico", Revista de Occidente, nº215, abril de 1999, pp.123-137.