Publication:
Energía solar sostenible para el desarrollo rural y estimación de sus costes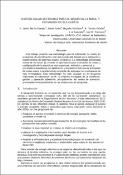 Advisors (or tutors)
Editors
Abstract
Este trabajo presenta una metodología para la estimación de costes en programas de electrificación rural descentralizada basado en la instalación y mantenimiento de sistemas solares domésticos. La metodología presentada consta de dos fases: (1) modelo de optimización para estimación de costes y configuración de la estructura local (agencias, vehículos y personal) y (2) modelos estadísticos de clasificación y regresión lineal para la estimación de costes sujeto a características conocidas de antemano en un programa de esta envergadura. Esta metodología ha sido validada en un programa implantado en Marruecos donde la empresa encargada de la instalación, gestión y operación subestimó, principalmente, los costes de operación, provocando el incumplimiento de las condiciones del programa.
Citation
[1] L.M. Carrasco, F.J. Martín-Campo, L. Narvarte, M.T. Ortuño, and B. Vitoriano. Design of maintenance structures for rural electrification with solar home systems. the case of the moroccan program. Energy, 117(Part 1):47–57, 2016. [2] L.M. Carrasco, L. Narvarte, and E. Lorenzo. Operational costs of a 13,000 solar home systems rural electrification programme. Renewable and Sustainable Energy Reviews, 20:1–7, 2013. [3] Organización de las Naciones Unidas. Sustainable development goals, 2015. https://sustainabledevelopment.un.org/topics/sustainabledevelopmentgoals (último acce- so: diciembre de 2020. [4] J. León, F.J. Martín-Campo, M.T. Ortuño, B. Vitoriano, L.M. Carrasco, and L. Narvarte. A methodology for designing electrification programs for remote areas. Central European Journal of Operations Research, 28:1265–1290, 2020.
Collections