Publication:
Implementation of an electromagnetic fault injection platform for a RISCV-based SoC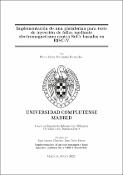 Advisors (or tutors)
Editors
Abstract
The market of microcontrollers, CPUs, desktop and server computers has seen both numerous milestones achieved and new challenges arise in the last decade. With the RISCV ISA being introduced in 2010, a new set of possibilities and freedoms was unlocked. However, the overall necessity for security and resilient computers has increased, not only for consumer grade devices, but also for every other field. Hardware is oftentimes one of the most forgotten attack surfaces, due to several reasons like lack of ease-of-access, or the cost of research. In this document, we ask the question: "how well does the RISC-V architecture stand against physical harms?". We also develop a novel device capable of doing Electromagnetic Fault Injection attacks while being a very affordable solution to build.
El mercado de los microcontroladores, CPUs, ordenadores de escritorio y servidores ha alcanzado nuevas cotas y superado numerosos retos técnicos durante la última década. Con la aparición del conjunto de instrucciones RISC-V en 2010, llegó un nuevo mundo de posibilidades y libertades. Sin embargo, la necesidad creciente de ordenadores seguros y confiables también ha aumentado, tanto de cara al consumidor, como en otras partes de la industria. En numerosas ocasiones, los componentes hardware son los grandes olvidados a la hora de evaluar la seguridad de un sistema, debido a razones tales como la dificultad de acceder o manipular estos componentes, o el coste prohibitivo que conlleva modificar e investigar dichas partes. En este trabajo, se plantea la pregunta: «¿Cómo de bien resiste la arquitectura RISC-V frente a peligros físicos?». Para evaluar posibles respuestas, se desarrolla un dispositivo nóvel capaz de llevar a cabo ataques de inyección de fallos mediante electromagnetismo, con énfasis en obtener un dispositivo cuya fabricación sea asequible.
Description
Trabajo de Fin de Grado en Ingeniería Informática, Facultad de Informática UCM, Departamento de Arquitectura de Computadores y Automática, Curso 2021/2022.