Publication:
Increased Alveolar Heparan Sulphate and Reduced Pulmonary Surfactant Amount and Function in the Mucopolysaccharidosis IIIA Mouse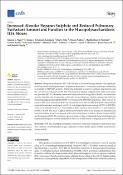 Advisors (or tutors)
Editors
Abstract
Mucopolysaccharidosis IIIA (MPS IIIA) is a lysosomal storage disease with significant neurological and skeletal pathologies. Respiratory dysfunction is a secondary pathology contributing to mortality in MPS IIIA patients. Pulmonary surfactant is crucial to optimal lung function and has not been investigated in MPS IIIA. We measured heparan sulphate (HS), lipids and surfactant proteins (SP) in pulmonary tissue and bronchoalveolar lavage fluid (BALF), and surfactant activity in healthy and diseased mice (20 weeks of age). Heparan sulphate, ganglioside GM3 and bis(monoacylglycero)phosphate (BMP) were increased in MPS IIIA lung tissue. There was an increase in HS and a decrease in BMP and cholesteryl esters (CE) in MPS IIIA BALF. Phospholipid composition remained unchanged, but BALF total phospholipids were reduced (49.70%) in MPS IIIA. There was a reduction in SP-A, -C and -D mRNA, SP-D protein in tissue and SP-A, -C and -D protein in BALF of MPS IIIA mice. Captive bubble surfactometry showed an increase in minimum and maximum surface tension and percent surface area compression, as well as a higher compressibility and hysteresis in MPS IIIA surfactant upon dynamic cycling. Collectively these biochemical and biophysical changes in alveolar surfactant are likely to be detrimental to lung function in MPS IIIA
Este trabajo es el fruto de una colaboración multidisciplinar entre el Grupo de investigación BIOMIL/Biophys-HUB, liderado por el Prof. Pérez Gil de la Universidad Complutense de Madrid, y el Grupo de investigación de la Prof. Sandra Orgeig de la University of South Australia en Adelaida. La mucopolisacaridosis IIIA (MPS IIIA) es una enfermedad rara lisosomal, asociada a patologías neurológicas y musculoesqueléticas. Pero además, una patología secundaria que contribuye a la mortalidad en estos pacientes con MPS IIIA es la disfunción respiratoria, aunque todavía se debate sobre sus posibles causas fisiopatológicas. El surfactante pulmonar es un complejo lipo-proteico esencial para la mecánica respiratoria. En el presente trabajo se ha utilizado un modelo de ratones sanos y con MPS IIIA, para analizar las cantidades de lípidos y proteínas tensioactivas de dicho complejo en el tejido pulmonar y en el lavado broncoalveolar (BALF) además de los niveles de heparan sulfato (HS, que no se degrada por culpa de esta alteración) y de la actividad tensioactiva del complejo surfactante pulmonar. A partir de este análisis se han detectado distintos cambios en el BALF de los ratones enfermos: un aumento de HS, una disminución de los ésteres de colesterol, así como una reducción de los fosfolípidos totales y de las proteínas SP-A, -C y -D del surfactante. Como resultado, se produce un aumento en la tensión superficial mínima y máxima que puede sostener el surfactante pulmonar aislado de los ratones enfermos, sugiriendo que el fenotipo MPS IIIA lleva asociada una inactivación de dicho complejo. En conjunto, el presente estudio sugiere la posibilidad de que diferentes cambios bioquímicos y biofísicos en el complejo surfactante pulmonar puedan, al menos en parte, contribuir a perjudicar la función pulmonar de los pacientes con MPS IIIA.
Collections