Publication:
Quest for order in chaos: hidden repulsive level statistics in disordered quantum nanoaggregates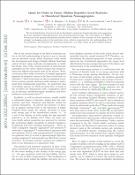 Advisors (or tutors)
Editors
Abstract
The local distribution of exciton levels in disordered cyanine-dye-based molecular nanoaggregates has been elucidated using fluorescence line narrowing spectroscopy. The observation of a Wigner-Dyson-type level spacing distribution provides direct evidence of the existence of level repulsion of strongly overlapping states in the molecular wires, which is important for the understanding of the level statistics, and therefore the functional properties, of a large variety of nanoconfined systems.
Description
© ACS. This work is part of the research program of the Stichting voor Fundamenteel Onderzoek der Materie (FOM), which is financially supported by the Nederlandse Organisatie voor Wetenschappelijk Onderzoek (NWO). A. V. M. and V. A. M. acknowledge support from NanoNed, a national nanotechnology programme coordinated by the Dutch Ministry of Economic Affairs. A. V. M. also acknowledges support from the program Ramón y Cajal (Ministerio de Ciencia y Tecnología de España).
Collections