Publication:
Divisors in global analytic sets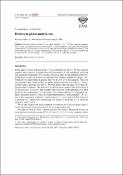 Files
Advisors (or tutors)
Editors
Publisher
European Mathematical Society
Abstract
We prove that any divisor Y of a global analytic set X subset of R(n) has a generic equation, that is, there is an analytic function vanishing on Y with multiplicity one along each irreducible component of Y. We also prove that there are functions with arbitrary multiplicities along Y. The main result states that if X is pure dimensional, Y is locally principal, X \ Y is not connected and Y represents the zero class in H(q-1)(infinity) (X, Z(2)) then the divisor Y is globally principal.
Citation
Acquistapace, F., Broglia, F.: More about signatures and approximation. Geom. Dedicata 50, 107–116 (1994) Acquistapace, F., Broglia, F., Tognoli, A.: Sulla normalizzazione degli spazi analitici reali. Boll. Un. Mat. Ital. (4) 12, 26–36 (1975)
Collections