Publication:
Estrategias de simplificación del tratamiento antirretroviral en España. Eficacia clínica y virológica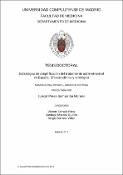 Files
Authors
Advisors (or tutors)
Editors
Publisher
Universidad Complutense de Madrid
Abstract
Actualmente, según el último informe global emitido por Naciones Unidas publicado en 2014, se estima que 36.9 millones de personas se encuentran infectados por el VIH en el año 2013 la mayoría en África subsahariana. Aunque el número de pacientes con acceso al tratamiento antirretroviral de alta eficacia (TARGA) ha aumentado con respecto a años anteriores, sigue siendo uno de los desafíos más importantes para intentar frenar el número de nuevas infecciones así como la supervivencia y calidad de vida de los pacientes infectados. El tratamiento antirretroviral (TAR) del VIH, gracias a la aparición de la triple terapia ha supuesto uno de los grandes avances de la medicina moderna, ya que ha modificado drásticamente la historia natural de la enfermedad, al permitir mantener la supresión de la replicación viral a largo plazo y recuperar el daño inmunológico secundario a la infección crónica. De tratarse de una enfermedad con un pronóstico vital de meses al inicio de la epidemia, la supervivencia se acerca hoy a la de la población general en los países en los que los pacientes tienen acceso a cuidados sanitarios, cuando el TAR se inicia precozmente. Esto ha transformado la infección en una enfermedad crónica, pero también ha originado una serie de nuevos problemas. Al tratarse de un tratamiento no curativo, su duración es indefinida y los sujetos infectados por VIH recibirán tratamiento durante décadas. Este hecho plantea numerosas dificultades y retos como la aparición de resistencias a los fármacos antirretrovirales, la toxicidad acumulada al TAR, la adherencia al tratamiento o el elevado coste económico del tratamiento al tratarse de una infección crónica. Los avances en el conocimiento de la patogenia de la infección y la investigación llevada a cabo en estos años han permitido ampliar el arsenal terapéutico frente al virus y plantear diferentes estrategias de abordaje en distintas situaciones, especialmente en pacientes con buen control inmunovirológico...
The development of combination antiretroviral treatment (ART) has dramatically impacted on the natural history of the illness. Long-term viral supression allows the recovery of the immune system, secondarily reducing morbility and mortality associated with de HIV infection. Today, in countries in which patients have unrestricted access to ART, the life expectancy of HIV-infected is approaching that of the normal population. Chronic HIV infection and its treatment, however, have rised a series of new problems. Current HIV guidelines, recommend combination therapy for initiation treatment and maintenance, but lifelong ART has been associated with several conditions, including adverse effects, the need of optimal treatment adherence, high economical cost, all of which can affect long-term treatment effectiveness. Therefore new strategies of treatment are needed to face these new challenges. Simplification strategies for patients who have achieved viral suppression have emerged as a potential strategy to attenuate long-term toxicities, ensure adherence, and might preserve future treatment options. Several studies published have been published and generated a vivid debate on the efficacy and safety of simplification strategies. PI boosted ritonavir or a combination of boosted PI and a second drug are potential viable strategies. Hence, we explored the use, efficacy and safety of simplification strategies in clinical practice. We analyzed the probabilities associated with different therapeutic strategies of virological failure, clinical progression, mortality or a composite event of these outcomes on a 4.322 subjects from the Cohort of the Spanish Reserch Network (CoRIS)...
Description
Tesis inédita de la Universidad Complutense de Madrid, Facultad de Medicina, Departamento de Medicina, leída el 11/02/2016
Collections