Publication:
Aspectos comparativos entre el cáncer mamario humano y canino con especial referencia al cáncer mamario inflamatorio:grado histológico de malignidad, mecanismos endocrinos e interleucinas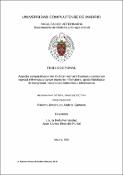 Files
Authors
Advisors (or tutors)
Editors
Publisher
Universidad Complutense de Madrid
Abstract
El cáncer mamario humano (CMH) es un gran problema de salud puesto que es el cáncer que más frecuentemente se diagnostica en la mujer y es la segunda causa de muerte por cáncer. El cáncer mamario inflamatorio (CI) humano y canino (CIH y CIC, respectivamente) es un tipo de cáncer mamario especialmente agresivo de baja prevalencia. El CIC se ha propuesto como modelo para el estudio de la enfermedad humana. El CI se define como una entidad clínicopatológica caracterizada clínicamente por edema difuso, eritema y dolor de la mama, ocupando la mayor parte de la misma y, frecuentemente, sin presentar nódulo mamario, lo que complica el diagnóstico al poder confundirse con una dermatitis o una mastitis. Por otro lado, los tumores mamarios caninos (TMC) se presentan como el primer grupo de tumores en la perra, suponiendo un 52% de todas las neoplasias y el segundo tras los tumores cutáneos teniendo en cuenta ambos sexos. En la especie canina el CI representa el 7,6% de todos los tumores mamarios caninos y el 17% de todas las neoplasias mamarias malignas. Una gran parte del conocimiento sobre el cáncer mamario humano (CMH) se basa en las investigaciones realizadas in vitro o in vivo. En numerosas ocasiones se han propuesto los TMC espontáneos como modelo para el estudio del CMH. Como previamente se ha indicado, se ha demostrado que la perra es un buen modelo animal para el estudio del CIH, ya que tienen características epidemiológicas, clínicas e histológicas similares. Sin embargo, la mayoría de los aspectos comparables en los cánceres de mama de ambas especies, incluyendo el perfil hormonal o la presencia de ciertas citocinas, no han sido todavía evaluados...
Nowadays human breast cancer (HBC) is one of the biggest health problems for women worldwide. Breast cancer is the most frequently diagnosed cancer in women and the second leading cause of death from cancer. Inflammatory breast cancer in women and in female dogs is a particularly aggressive type of breast/mammary cancer with low incidence. Canine inflammatory mammary cancer (IMC) has been proposed as the best natural model to study inflammatory breast cancer. This type of breast cancer is considered a clinical entity in itself, characterized by edema, redness and pain that usually affect the entire breast. It appears very often without a nodule, which makes the diagnosis very difficult, and often mistaken for dermatitis or mastitis. On the other hand, canine mammary cancer (CMC) is presented as the most diagnosed cancer in female dogs, accounting for 52% of all malignancies and the second most common after skin tumors in both sexes. In the canine species IMC represents 7.6% of all canine mammary tumors and 17% of all malignant mammary neoplasms. A great deal of knowledge about breast cancer is based on research conducted in vitro or in vivo. On numerous occasions, spontaneous canine mammary tumors have been proposed as a model for the study of HBC. It has been shown that the canine species is a good model for researching IBC in women because of the very similar epidemiologic, clinical and histological features between the two species. However, most comparable aspects in breast cancers of both species, including the hormonal profile or the presence of certain cytokines, have not yet been evaluated...
Description
Tesis inédita de la Universidad Complutense de Madrid, Facultad de Veterinaria, Departamento de Medicina y Cirugía Animal, leída el 03/12/2015
Collections