Publication:
Enseñanza no presencial en Obstetricia y Ginecología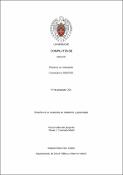 Advisors (or tutors)
Editors
Abstract
Se ha realizado un proyecto docente con la finalidad de rediseñar la asignatura de Obstetricia y Ginecología del Hospital Clinico San Carlos en no presencial. Se crearon nuevos contenidos usando la plataforma virtual de la UCM. Se presentaron las clases magistrales y casos clínicos usando presentaciones de PowerPoint o pdf en "streaming" forma directa. Como complemento se usó contenido multimedia según la naturaleza de la clase. Durante las sesiones se permitía interacción con el alumno usando el chat o dando paso a intervenciones según convenía. No se pudo realizar seminarios de índole inminentemente practica como son los relacionados a la exploración, habilidades y manejo endoscópico. En estos casos se realizaron de forma presencial siguiendo las medidas recomendadas. La evaluación de conocimiento no pudo realizarse de forma virtual siguiendo las recomendaciones de la UCM ante la imposibilidad de monitorizar un numero de alumnos mayor de 100. Los resultados de las calificaciones brutas de las clases no presenciales fueron peores que los obtenidos en las clases presenciales. Los alumnos consideran las clases no presenciales como peores, se quejan del poco contacto entre compañeros y no ven diferencias respecto al profesorado. El profesorado también valora peor las clases no presenciales y se sienten menos cómodos. La mayoría de los profesores ven bien un futuro con formato híbrido (presencial y on line simultáneo).
A teaching project has been carried out with the aim of redesigning in non-presential the Obstetrics and Gynecology subject at Hospital Clinico San Carlos. New content was created using the UCM virtual platform. Lectures and clinical cases were presented using streaming PowerPoint or pdf presentations. As a complement, multimedia content was used according to the type of class. During the sessions, students interacted using chat or live streaming when appropriate. It was not possible to carry out on hands seminars, such as those related to exploration, skills, and endoscopic management. In these cases, they were carried out in a presidential way following the recommended health measures. The exams could not be carried out in a virtual way following the recommendations of the UCM due to the impossibility of monitoring more than 100 students. The results of the raw grades of the non-face-to-face classes were worse than those obtained in the face-to-face classes. Students considered non-face-to-face classes worse, they complained about little contact between classmates and they saw non-differences in relation to the teaching staff. Teachers also value non-contact classes worse and feel less comfortable. Most teachers see possible a hybrid format (face-to-face and online simultaneously) in the future.