Publication:
El Diccionario funcionalista como instrumento de aprendizaje de una Lengua: experiencias previas a la digitalización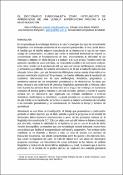 Advisors (or tutors)
Editors
Abstract
Este documento presenta los resultados de una primera investigación sobre el uso de un modelo de diccionario latino-castellano de corte funcionalista acompañado por una metodología docente adecuada para mejorar los resultados académicos de los estudiantes de la lengua Latina. Para evaluar esta hipótesis se ha diseñado y llevado a cabo un caso de estudio con alumnos de Educación Secundaria, con edades comprendidas entre los quince y los dieciséis años, que cursan la asignatura de Latín. El objetivo concreto era demostrar si el uso único del diccionario propuesto constituye una herramienta de apoyo suficiente en las labores de análisis lingüístico y traducción de textos latinos adaptados a su nivel, de manera que el alumno prescinda, en la medida de lo posible del uso de cualquier otro material gramatical complementario. Los resultados obtenidos sugieren que el cambio de metodología ha incidido positivamente en el proceso cognitivo del alumno puesto que se observó un incremento significativo en la motivación y en las calificaciones obtenidas en las pruebas de evaluación respecto al grupo de control y con respecto a la actitud y a las evaluaciones iniciales del grupo de actuación. Los resultados, por lo tanto, motivan la creación de una versión digital en línea que permitirá al alumno usarla tanto el aula como en el trabajo personal.
This paper presents the results of a first study on the use of a model of Latin-Castilian dictionary functionalist accompanied by appropriate teaching methodology to improve the academic performance of students in the Latin language. To evaluate this hypothesis is designed and conducted a case study with secondary school students, aged between fifteen and sixteen, in course of Latin. The specific objective was to demonstrate if the only use of the proposed dictionary is a tool sufficient support in the work of linguistic analysis and translation of Latin texts adapted to their level, so that the student dispenses as far as possible the use of any additional grammatical material. The results suggest that the change in methodology has a positive impact on the cognitive process of the student as a significant increase was observed in motivation and scores on assessment tests compared to the control group and with respect to the attitude and initial assessments of group performance. The results, therefore, encourage the creation of a digital version online that allow students to use both classroom and personal work.