Publication:
Prevalence of convergence insufficiency among Spanish school children aged 6 to 14 years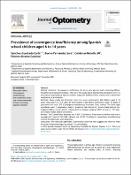 Advisors (or tutors)
Editors
Publisher
Spanish General Council of Optometrists
Abstract
Clinical relevance: Convergence insufficiency (CI) at an early age can lead to learning difficulties affecting school performance. The aim of this study was to examine the prevalence of CI in a non-clinical population of Spanish children using well defined clinical criteria and to determine whether sex is a risk factor. Methods: Visual acuity and binocular vision tests were performed in 628 children aged 6-14 years (mean age 9.6 ± 1.3 years) at three schools in the Madrid Community, Spain. To assess CI prevalence we used CITT (Convergence Insufficiency Treatment Trial) criteria. The three signs considered were: i) exophoria at least 4∆ greater at near than at far; ii) near break point of convergence (NPC) ≥ 6 cm; and iii) reduced positive fusional vergence (PFV) at near (≤ 15∆ base-out break or failed Sheard's criterion). Results: The CI prevalence detected was 5.30% (33 children). Proportions of children with one or two signs of CI were 23.76% (148 children) and 12.20% (76 children), respectively. No differences in these CI rates by sex were detected. Conclusion: The clinically significant CI prevalence observed here suggests the need for more binocular vision screening programmes in school settings.
Collections