Publication:
Periodistas y políticos en la construcción de la democracia española : estudio de las entrevistas de personalidad en las primeras elecciones de la Transición, (1977 y 1979)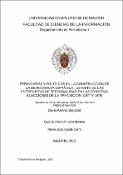 Authors
Advisors (or tutors)
Editors
Publisher
Universidad Complutense de Madrid
Abstract
Introducción La llegada de la democracia a España en 1977 supuso el comienzo de un tiempo nuevo en nuestro país. Atrás habían quedado los casi cuarenta años de Dictadura y los días en los que manifestar un parecer contrario al orden establecido se antojaba como un objetivo cuanto menos peligroso, por las consecuencias que podría deparar. Sólo había una opinión aceptada y las discrepantes permanecían o silenciadas, o trabajando en la clandestinidad para sembrar una semilla que provocara el cambio de modelo en un futuro más o menos próximo, o exiliadas. El 20 de noviembre de 1975 fue la efeméride inicial de un proceso de cambios que provocaron la celebración de unas elecciones generales y libres casi dos años después, el 15 de junio de 1977. Tras ella, las principales ocupaciones de la clase política española pasaron por dotar de un marco legislativo supremo, a través de la Constitución aprobada en el último mes de 1978, al nuevo régimen de libertades implantado en España. Con la coyuntura totalmente amparada en un sistema normativo que reconocía los derechos fundamentales básicos de la persona, aspecto utópico poco tiempo atrás, se permitía que la vida en democracia del país se desarrollara por los cauces normales de una organización de dicha tipología, a imagen y semejanza de los estados de nuestro entorno más desarrollados en ese sentido. Ante ese hecho, las segundas elecciones generales de la Transición, el 1 de marzo de 1979, pretendieron dotar de normalidad una situación que no lo había sido en los últimos tiempos, por las ingentes transformaciones afrontadas a todos los niveles. La libertad era ya una realidad y en los dos primeros comicios se enfrentaron un buen número de partidos políticos, unos de nueva creación y otros con una trayectoria muy extensa, personificados en unos líderes con vidas y biografías diversas. La prensa se erigió como el altavoz perfecto para ejercer una labor pedagógica de los comicios, mostrar los programas de las formaciones y los elementos personales de los aspirantes, que jugaban un papel fundamental para la decisión del voto por parte de la sociedad... Introduction The arrival of democracy in Spain in 1977 marked the beginning of a new era in our country. Almost forty years of dictatorship were left behind along with the days in which expressing a contrary view to that of the established order was considered to be a dangerous objective -to say the least- due to the consequences it might have brought. There was only one accepted opinion whereas discrepancies were either kept silent, forced to struggle underground -with the hope of sowing a seed that might result in a change in the system one day in the not too distant future- or forced into exile. The date of 20th November 1975 marked the initial event of a changing process that led to the general free elections almost two years later on 15th June 1977. After the elections, the main tasks of the Spanish political class consisted in providing a supreme legislative framework -embodied in the Constitution passed in the last month of 1978- for the new system of liberties introduced in Spain. Once the situation was fully protected within a regulatory system recognising the basic fundamental rights of the individual -a utopian aspect not so long ago-, it allowed for democratic life in the country to develop through the normal channels which characterised this type of organisation, in the image of neighbouring states that were more developed in this regard. In view of this, the second general elections of the Transition, held on 1st March 1979, were intended to provide a sense of normalcy to a situation that had not been such in recent times due to the enormous transformations addressed on all levels. Freedom was already a reality and the first two polls confronted a large number of political parties. Some of them were newly founded whereas others had very extensive experience. All were personified in leaders with diverse lives and backgrounds. The press emerged as the perfect loudspeaker for performing an educational role at the polls, for displaying the parties' political programmes as well as the personal traits of the candidates, which played a fundamental role in society's voting choice...
Description
Tesis inédita de la Universidad Complutense de Madrid, Facultad de Ciencias de la Información, Departamento de Periodismo I, leída el 05-07-2013
Collections