Publication:
El estado frente a los retos de la migración en la sociedad globalizada: alternativas de actuación en el marco de las relaciones internacionales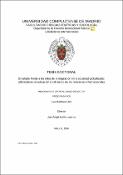 Files
Authors
Advisors (or tutors)
Editors
Publisher
Universidad Complutense de Madrid
Abstract
El Objetivo de la presente tesis se dirige a analiza, de qué forma el Estado está respondiendo a los retos que el nuevo fenómeno de la migración internacional le plantea en el marco de una Sociedad Internacional globalizada: presión migratoria, migración irregular, transnacionalidad, feminización...; teniendo en cuenta las posibles alternativas de actuación que el marco de Relaciones Internacionales le ofrece y que principalmente se centra en tres enfoques teóricos: Seguridad, Desarrollo económico, y Derechos humanos. Así mismo, la investigación analiza qué factores son los que determinan la elección del enfoque de actuación concluyendo que no depende esa elección tanto de la propia naturaleza del fenómeno migratorio, sistémica, compleja y transnacional, sino de la valoración que el Estado realice teniendo en cuenta su posición e intereses en la Sociedad Internacional como resultado de la interacción con el resto de posibles actores. En términos generales, las respuestas que el Estado está ofreciendo, predominantemente en el marco del paradigma neorrealista desde una perspectiva de seguridad, no se adecúan a los requerimientos de actuación que plantea el nuevo fenómeno migratorio lo que en la práctica está conduciendo a que la gobernabilidad no sea efectiva. Sin embargo, a corto y medio plazo, no existen perspectivas de cambio de enfoque. Tan solo acontecimientos extraordinarios o una gran demanda de social podrían inducir los citados cambios.
This thesis aims at analyzing the way States are responding to the challenges derived from international migration in the framework of a globalized International Society that includes issues such as immigration pressure, irregular immigration, transnationalism, and feminization. This work tackles these problems and tries to identify possible ways of action from three different points of view, security, economic development, and human rights; in the framework of different International Relationship paradigms: neo-realist, neo-liberal and estructuralist one. Furthermore, it analyzes the factors that determine the way intervention is framed. It concludes that the nature of intervention does not depend mainly on the three-fold nature of the migratory phenomenon itself –systemic, complex, and transnational- but on the evaluation that every State makes of its own position as State within the international system and of its interactions with other relevant actors. In general terms, the responses that are being offered by states –mainly based on a neo-realist paradigm in terms of security- do not respond to the real problems posed by the migratory phenomenon. This situation is leading to ineffective responses from the point of view of governance. It is a central thesis of this work that in the medium and long run there are no signs of important changes in this sense. Only extraordinary events or powerful social demands could introduce changes in the system.
Description
Tesis inédita de la Universidad Complutense de Madrid, Facultad de Ciencias Políticas y Sociología, Departamento de Derecho Internacional y Relaciones Internacionales, leída el 26-11-2015
Collections