Publication:
Adebug: una herramienta para la depuración de gramáticas de atributos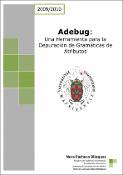 Authors
Advisors (or tutors)
Editors
Abstract
En este trabajo de Sistemas Informáticos se ha desarrollado un entorno gráfico de depuración para el procesamiento de gramáticas de atributos. Esta herramienta de depuración recibe cómo entrada una serie de sencillos comandos que es capaz de interpretar. Estos comandos pueden ser producidos desde diferentes fuentes, pero en nuestro caso hemos utilizado la herramienta BYacc. El depurador cuenta con una serie de modos distintos de ejecución que nos permiten movernos por el árbol de análisis atribuido de forma sencilla, rápida y sobre todo muy intuitiva. El crecimiento del árbol debido a la aplicación de reglas de producción, el establecimiento de las dependencias entre atributos heredados y sintetizados y las correspondientes evaluaciones de estos atributos son mostrados perfectamente en nuestra herramienta, pudiéndose elegir en cada momento una ejecución con o sin animación. De esta forma, conseguimos un correcto entendimiento de cómo estas gramáticas funcionan, lo cual, al fin y al cabo es el objetivo final. [ABSTRACT] In this project, a graphic debugging environment for processing of attribute grammars has been developed. This debugging tool has as input a list of simple commands which the environment is able to interpret. These commands can be produced from different sources, but in this case, the BYacc tool has been used. The debugging environment has different execution modes which allow us to move along the attribute parse tree in an easy, fast and especially very intuitive way. The growth of the tree due to the application of the production rules, the establishment of the dependences between inherited and synthesized attributes and the corresponding evaluations of these attributes are perfectly showed in the tool, being able to choose at each moment an execution with or without animation. In this way, a good understanding of how this kind of grammar works is got and this is, indeed, the final aim.
Description
Proyecto de Sistemas Informáticos (Facultad de Informática, Curso 2009-2010)
Collections