Publication:
EMPLEINNOVA II. Formación para la Búsqueda de empleo activo a través de las redes sociales y profesionales en el Grado en Educación Social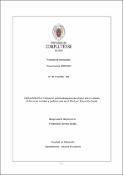 Advisors (or tutors)
Editors
Citation
Clarke, A., Trigss. V. & Nielsen, W. (2014). Cooperating Teacher Participation in Teacher Education: A Review of the Literature. Review of Educational Research, 84(2), 163– 202. Gómez-Jarabo, I. y Cabañero, J. (2021). La colaboración entre el profesorado. En J. Gairín y G. Ion (Eds.). Prácticas educativas basadas en evidencias. Reflexiones, estrategias y buenas prácticas. Madrid: Narcea. INE (2020). Encuesta de Población Activa. Cuarto trimestre de 2020. Recuperado de: https://www.ine.es/daco/daco42/daco4211/epa0420.pdf SEPE (2020). Estadísticas. Recuperado de: https://www.sepe.es/HomeSepe/que-es-el-sepe/estadisticas.html Torre, M. (2021). La juventud y el empleo. En Instituto de la Juventud. Informe Juventud en España 2020. Madrid: INJUVE.