Publication:
La ecografía como método complementario para la implantación del catéter venoso central de inserción periférica (PICC)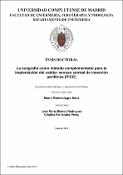 Files
Authors
Advisors (or tutors)
Editors
Publisher
Universidad Complutense de Madrid
Abstract
La Terapia Intravenosa es una modalidad terapéutica indispensable en la medicina actual, a su vez ampliamente tecnificada. El catéter PICC es el segundo abordaje vascular central más frecuentemente utilizado. Aunque su implantación, tradicionalmente llevada a cabo mediante técnica ciega, se realiza cada vez más utilizando equipos de ecografía a pie de cama, no existe evidencia científica de nivel I que respalde esta práctica. Objetivo y metodología: Ensayo clínico fase 3, prospectivo, aleatorizado y controlado, que compara la probabilidad de éxito en la correcta implantación del catéter PICC al primer intento mediante técnica ecoguiada frente a técnica ciega, en enfermos que reciben terapia intravenosa por vía central. Entre Agosto de 2013 y Marzo de 2014, 199 pacientes ingresados en el Hospital Clínico San Carlos de Madrid fueron incluidos. Ambos brazos del estudio se estratificaron específicamente en función de la existencia de mal acceso venoso y de las características del tratamiento intravenoso. Resultados: La técnica ecoguiada permitió la correcta inserción, al primer intento de venopunción, del 78,2% de los PICC frente al 41,8% implantados con técnica ciega (IC 95% 23,7 a 49,0; p<0,001); siendo las diferencias todavía más evidentes en el subgrupo de pacientes con mal acceso venoso (75,6% vs. 20,50%; IC 95% 34,2 a 76,0; p<0,001). Tanto la media de tiempo empleado para la inserción del PICC, como la tasa de complicaciones postimplantación, se ven reducidas con el uso de la técnica ecoguiada. En el examen de los datos de satisfacción del paciente, no se observaron diferencias en cuanto al dolor relacionado con el procedimiento, con un valor medio de EVA de 4,28 vs. 4,79 puntos (IC 95% -1,32 a 0,29;p=0,208). Se realizó un análisis de la influencia de la cualificación de las enfermeras que llevaron a cabo los procedimientos sobre los resultados, demostrando así de forma pionera la necesidad de formación específica en técnica ecográfica. Conclusiones: En definitiva, la técnica ecoguiada resulta el método de elección para la implantación de catéteres PICC por enfermeras cualificadas abriendo nuevas áreas de competencia y formación a la profesión.
Intravenous Therapy is a crucial therapeutic approach in contemporary and technologized medicine. PICC is the second central vascular access most frequently used. Although its insertion has been traditionally performed using blinded technique, point-of-care ultrasonography is enabling the widespread use of the ultrasound-guided access. However we need still develop level I scientific evidence that support this practice. Methods: Our project is a prospective, randomized, controlled phase 3 trial that compare the ultrasound-guided technique for PICC placement in the first attempt with standard landmark technique. From August 2013 to March 2014, 199 patients admitted in Hospital Clinico San Carlos were randomized and stratified according with venous access difficulty and treatments characteristics. Clinical and demographics variables resulted well balanced between the two arms of the trial. Results: 78,2% of PICC were correctly inserted at first attempt in the ultrasound-guided group versus 41,8% using landmark technique (IC 95% 23,7 to 49,0; p<0,001); moreover in the poor venous access subgroup the benefit was more evident (75,6% vs. 20,50%; IC 95% 34,2 to 76,0; p<0,001). Both the mean of time taken to PICC insertion and the rate of postimplantation complications were reduced with the use of ultrasound. There was no difference in the pain procedure-related perception: VAS mean value 4,28 vs. 4,79 points (IC 95% -1,32 a 0,29;p=0,208). The level of training of the nurses who carried out the procedures was considered and a preplanned analysis about its impact on the results was performed, highlighting the need of formation ad-hoc in this new technique. Conclusion: the ultrasound-guided technique must be the gold standard for the implantation of PICC catheters by qualified staff, adding new areas of competence and academic education for the nursing.
Description
Tesis de la Universidad Complutense de Madrid, Facultad de Enfermería, Fisioterapia y Podología, Departamento de Enfermería, leída el 14/07/2017
Collections