Publication:
Blogs: actitudes hacia la sostenibilidad a través de su estudio semántico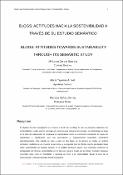 Advisors (or tutors)
Editors
Publisher
Editorial Asociación Científica de Investigación NNTT
Abstract
El objetivo de esta investigación es conocer a través de los Blogs lo que las personas entienden por sostenibilidad y cuáles son los mensajes y/o acciones que subyacen al concepto. La metodología se basa en la idea de palimpsesto al considerar el conocimiento como un constructo compuesto de capas de significados y significantes que van acumulando y superponiendo contenidos semánticos interrelacionados. Este estudio se lleva a cabo en dos fases, en la primera se realiza un análisis semántico cualitativo a una muestra de personas, y la segunda fase se efectúa con los principales blogs sobre sostenibilidad en España, basado en el análisis semántico previo. Los resultados confirman la ambigüedad del término sostenibilidad en el discurso social a través de los Blogs. También destacan conceptos tales como la flexibilidad y variedad en torno a la sostenibilidad desde el área de la Comunicación y Responsabilidad Social Corporativa.
The aim of this research is to provide knowledge through the Blogs about what people understand by sustainability, as well as, what are the messages and actions underlying the concept. Methodology is based on Palimpsest's idea of considering knowledge as a construct made up of layers of meanings and significant that they are accumulating and overlapping interrelated semantic content. The study is carried out in two phases. The first is a qualitative semantic analysis to a sample of people and the second phase is carried out through the major blogs on sustainability in Spain, based on the prior semantic analysis. Results confirm the ambiguity of the term sustainability in the social discourse through Blogs. They also highlight the flexibility and choice about sustainability in this medium. Aspects of communication and corporate social responsibility are discussed in this regard.
Citation
Alet , J.(2007). Marketing directo e interactivo, campañas efectivas con sus clientes. Madrid: Esic. Aragonés, J.I., Izurieta, C., y Raposo, G. (2003). Revisando el concepto de desarrollo sostenible en el discurso social. Psicothema, 15( 2), 221-226. Recuperado de: http://www.unioviedo.es/reunido/index.php/PST/article/view/8111/7975 De la Cuesta González, M., y Valor Martínez, C., (2003). BOLETIN ECONOMICO DE ICE N° 2755, pp. 7-19. Recuperado de:http://www.revistasice.info/cachepdf/BICE_2755_07-19__843B2AFA16833BD45F65BF48332D2587.pdf García Guardia. M.L. y Núñez Gómez, P. (2012). Los Blogers y su influencia en imagen de una marca. Icono14, 12, 242-252. Recuperado de: http://icono14.net/ojs/index.php/icono14/article/view/343/220 Fumero. A. (2007). Antoine's blog. Infotecnología, empresa y sociedad s [Mensaje de blog]. Recuperado de http://antoniofumero.blogspot.com.es/ Husted, B.W. & Allen, D.B. (2011). Corporate Social Strategy: Stakeholder Engagement and Competitive Advantage. Cambridge, U.K: Cambridge UniversityPress. ROJAS, O. I., Alonso, J., Orihuela, J.L., Antúnez, J.L. y Varela, J. (2005). Blogs: La conversación en Internet que está revolucionando. Madrid: ESIC. Orihuela, J.L. (2005). eCuaderno s [Mensaje de blog]. Recuperado de http://www.ecuaderno.com Ojeda, F., Perales, F.J. y Gutiérrez-Pérez, J. (2012).Evaluación de la calidad de webs y blogs sobre educación ecológica. Cultura y Educación, 24, (1), 77-93. Solsona, B. (2007). La comunicación de la RSC. Jornadas sobre Medios de Comunicación. Madrid: Red Araña. Tejerina-Arreal, M., García-Gómez, P. y García-Guardia, M.L. (2013). Life values structure in a spanish sample of adolescents. Anales de Psicología, 30(2), 627-632.doi: 10.6018/analesps.30.2.157731 Verschueren, J. (2002). Para entender la pragmática. Madrid: Editorial Gredos.
Collections