Publication:
El uso del arte como mediador del aprendizaje en la etapa escolar: (Infantil, Primaria, Secundaria y Bachillerato)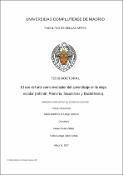 Files
Authors
Advisors (or tutors)
Editors
Publisher
Universidad Complutense de Madrid
Abstract
Con el objetivo principal de contribuir a la optimización de una educaciónintegral e innovadora en la escuela, se investiga la posibilidad, a modo de propuestaeducativa de generar un proyecto en un centro escolar, con el Arte como elementogenerador y gestor de dicho proyecto. Este proyecto aspira a coordinar de manerainterdisciplinar diferentes actividades del centro, teniendo como finalidad fomentar lamultidisciplina, la creatividad, la cultura, la interdisciplina y la experimentación; todoello haciendo uso del Arte como mediador en el aprendizaje. Relacionándolo condiferentes áreas de conocimiento, se utilizará el Arte para profundizar tanto en lasasignaturas formales del curriculum, como en otras áreas igualmente importantes en elaprendizaje escolar, como son las emociones o los valores, y de esta manera generar unared cultural en todo el entorno escolar; utilizando siempre el Arte como guía paraconocer y aprehender.El sistema y la metodología educativa en la escuela deberían orientarse hacia unaprendizaje de calidad y acorde con el siglo XXI, proyectándose hacia el futuro con lamayor solidez posible. El proceso de transformación podría ser lento a nivel legislativo,pero dicha transformación es tan necesaria que ya es evidente el cambio en muchosámbitos escolares. Los docentes comprometidos están poco a poco llevando a cabo unalabor de innovación educativa muy beneficiosa, unas veces a nivel particular en elentorno de su aula o área de conocimiento, y otras a nivel más global, donde todo uncentro educativo se implica en un cambio de metodología general...
With the aim of contributing to optimizing a holistic and innovative schooleducation, this thesis explores the possibility of creating an educational project within aschool where Art is the both the motor and the means for realizing said project. Thisproject aspires to coordinate different school activities following an interdisciplinarymodel, with the goal of fostering a multidisciplinary and interdisciplinary approach,creativity, culture, and experience; all of the above while using Art as a mediator forlearning. By exploring connections with different fields of knowledge, Art can be usedto pursue a deeper understanding of formal subjects on the school curriculum, as well asin other areas of school learning that are equally important, such as emotions andvalues, and thus generate a cultural network throughout the whole school environment;always using Art as a guide for knowing, learning and understanding.The school education system and methodology should aim to provide qualitylearning appropriate to the 21st century, seeking to consolidate its future development.This transformation process may be slow to implement from a legal point of view, butsaid transformation is so necessary that changes are already evident in many areas ofschool activity. Committed teachers are gradually implementing educationalinnovations that are highly beneficial, sometimes locally within their classroom ordiscipline, at other times acting more globally, as when a school embarks on an overallmethodological change...
Description
Tesis inédita de la Universidad Complutense de Madrid, Facultad de Bellas Artes, leída el 29 de junio de 2017
Collections