Publication:
El pretexto de la inflación. La política alemana de ajustes que privilegia al acreedor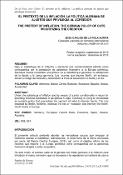 Authors
Advisors (or tutors)
Editors
Publisher
Instituto Complutense de Estudios Internacionales (ICEI)
Abstract
Bajo el subterfugio de la inflación y mediante una condicionalidad estricta como contrapartida por la prestación de asistencia financiera a la Europa periférica, Alemania intenta consolidar una política de austeridad que garantice la satisfacción de la deuda a la banca germana. Los recortes que impone Berlín, sin embargo, elevan el riesgo de recesión y recrudecen la fractura social entre el Norte y el Sur.
Under the subterfuge of inflation and by means of a strict conditionality in return for providing financial assistance to peripheral Europe, Germany is trying to consolidate an austerity policy that guarantees the payment of debts to German banks. The cuts imposed by Berlin, however, increase the risk of recession and intensify the NorthSouth divide in Europe.
Citation
Antón Costas (2012): Ni contigo ni sin ti…, El País, 5 agosto 2012. Audit Ibérica (2012): La república de Weimar, la hiperinflación y la quiebra de los estados, Boletín nº 5. Disponible en: http://images.ozongo.com/xpress/auditiberica/resources/image/revista_audit_N5.pdf. Banco Central Europeo (2011): Guidance for calculation of losses due to application of market risk parameters and sovereign haircuts. Disponible en: http://www.eba.europa.eu/cebs/media/Publications/Other%20Publications/2011%20EU-wide%20stress%20test/Annex-4-Trading-book-stress-and-sovereignhaircuts.pdf. Banco Central Europeo (2011): Las medidas no convencionales del BCE. Impacto y retirada gradual, Boletín mensual, julio 2011. Disponible en: http://www.bde.es/f/webbde/SES/Secciones/Publicaciones/PublicacionesBCE/BoletinMensualBCE/11/Fich/bm1107-3.pdf. Díez Espinosa, José Ramón (1994): Sociedad y cultura en la República de Weimar. El fracaso de una ilusión, Universidad de Valladolid. Secretariado de Publicaciones e Intercambio Editorial, Valladolid. Gabriel Flores (2012): Las razones de Merkel, Nueva Tribuna. Disponible en: http://www.nuevatribuna.es/articulo/economia/las-razones-de-angelamerkel/20120824134924080149.html. Keynes, J.M. (2006): Teoría General de la ocupación, el interés y el dinero, Fondo de Cultura Económica de España, S. L., México. Krugman, Paul (2012): ¡Acabad ya con esta crisis!, Critica, Barcelona. Martínez de Pisón, C. J. (1998): Políticas de Bienestar. Un estudio sobre los derechos sociales, Tecnos, Madrid. Stiglitz, Joseph E. (2012): El precio de la desigualdad, Taurus, Madrid.
Collections