Publication:
Técnicas y materiales de escritura creativa en los siglos XIX y XX: una revisión crítica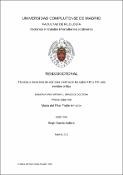 Files
Authors
Advisors (or tutors)
Editors
Publisher
Universidad Complutense de Madrid
Abstract
La presente tesis: «Técnicas y materiales de escritura creativa en los siglos XIX y XX: una revisión crítica» trata de responder a la cuestión acerca de la posibilidad de una didáctica efectiva de la escritura de ficción. Para responder a esta cuestión se investigan las principales propuestas sobre la práctica de la escritura de ficción en los dos pasados siglos y se propone una revisión crítica y comparatista de las mismas para intentar resolver por un lado la pregunta fundamental que se propone y, por otro, la pregunta acerca de la naturaleza y clasificación de estos materiales. La práctica totalidad de los materiales que se revisan son textos escritos por escritores de reconocido prestigio de los siglos XIX y XX. El trabajo, haciendo uso de la investigación histórica y comparatista, ofrece algunas respuestas acerca de la posibilidad del aprendizaje y didáctica de la escritura. De este estudio se deducen los principales modelos de enseñanza y aprendizaje de la escritura creativa y sus distintas posturas, así como su evolución. Asimismo se ofrece una evaluación de estos modelos y se clarifican su eficacia y su sentido.
This thesis: «Techniques and materials for the creative writing in the 19th and 20th century: a critical approach» deals with the question of the effectiveness of the creative writing materials. In order to answer this question, materials of different trends have been evaluated under a critical perspective. This analysis confronts two different and fundamental questions: Is it possible to teach and learn how to write fiction? And: What is the nature of the materials and texts on the studied subject? This thesis, by using a historical and comparatist approach, provides us with some answers on the possibility of learning creative writing and also on the main teaching models and its evolution. In addiction this work offers an evaluation of the different models regarding its efficiency and meaning.
Description
Tesis inédita de la Universidad Complutense de Madrid, Facultad de Filología, leída el 15/01/2016
Collections