Publication:
Alan Turing and the origins of complexity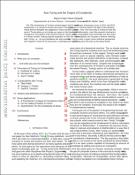 Advisors (or tutors)
Editors
Publisher
Librería Científica Medinaceli
Abstract
The 75th anniversary of Turing's seminal paper and his centennial year anniversary occur in 2011 and 2012, respectively. It is natural to review and assess Turing's contributions in diverse fields in the light of new developments that his thoughts has triggered in many scientific communities. Here, the main idea is to discuss how the work of Turing allows us to change our views on the foundations of Mathematics, much like quantum mechanics changed our conception of the world of Physics. Basic notions like computability and universality are discussed in a broad context, making special emphasis on how the notion of complexity can be given a precise meaning after Turing, i.e., not just qualitative but also quantitative. Turing's work is given some historical perspective with respect to some of his precursors, contemporaries and mathematicians who took up his ideas farther.
Description
© 2013 CSIC. M.A.M.-D. thanks the Spanish MICINN grant F15200910061, CAM research consortium QUITEMAD 52009-ESP1594, European Commission PICC: FP7 2007-2013, Grant No. 249958, UCM-BS grant GICC-910758.
Collections