Publication:
Espectroscopía de plasma inducido y fluorescencia molecular en el control de calidad de los alimentos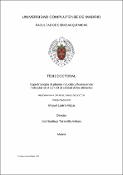 Files
Authors
Advisors (or tutors)
Editors
Publisher
Universidad Complutense de Madrid
Abstract
La industria alimentaria es un sector en continua evolución, con un gran volumen tanto en importaciones como en exportaciones entre países, siendo susceptible de fraudes, adulteraciones o de productos en mal estado, pudiendo llegar a producir intoxicaciones, enfermedades o alergias alimentarias. Esto produce una inseguridad en la población ante la incertidumbre de si el producto que se adquiere es genuino y seguro, además de la vulnerabilidad de los productores de cara a la protección del producto que ofertan. Bien es cierto que existen etiquetas con Denominación de Origen Protegido (D.O.P.) y sus variantes como elemento diferenciador de la calidad, así como normativas europeas 1 en la lucha contra el fraude alimentario, pero se hacen insuficientes ante los numerosos casos de fraudes que benefician el bolsillo de unos y perjudica la salud de muchos otros...
The food industry is a sector in continuous evolution, with a great amount both in imports and exports between countries, being susceptible to frauds, adulterations, or products in poor condition, which can lead to intoxications, diseases, or allergies. This produces insecurity in the population due to the uncertainty of whether the product that is bought is genuine and safe, in addition to the vulnerability of the producers regarding the protection of the product that they offer. It is true that there are labels with Protected Designation of Origin (PDO) and its variants as a differentiating element of quality, as well as European regulations in the fight against food fraud 1, but they are insufficient against the numerous cases of fraud that economically benefit a few while tricking and harming the health of many others...
Description
Tesis inédita de la Universidad Complutense de Madrid, Facultad de Ciencias Químicas, Departamento de Ingeniería Química, leída el 20/11/2019
Collections