Publication:
La comunicación digital en los nuevos movimientos sociales (2008-2015)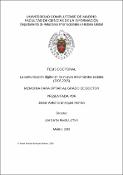 Files
Authors
Advisors (or tutors)
Editors
Publisher
Universidad Complutense de Madrid
Abstract
El estudio de los movimientos sociales presenta un punto de inflexión a partir de dos acontecimientos capitales en la Historia del siglo XX. Primero, la caída del Muro de Berlín, en 1989, y la posterior desaparición de los regímenes comunistas en la Unión Soviética y sus Estados satélites en Europa del Este, con el consiguiente desarrollo del sistema capitalista por todo el planeta, encontrando en el neoliberalismo su última fase de desarrollo. Y, segundo, la irrupción de Internet, generalizada social e institucionalmente a partir de los años noventa, lo que proporciona a los activistas una herramienta fantástica. La Red, unida al espectacular desarrollo de las nuevas tecnologías de la información y comunicación (TIC) como los teléfonos móviles o las pequeñas cámaras de video, impulsa una profunda revolución en los movimientos sociales, capaces de emplear Internet para difundir todo tipo de información sin necesidad de los medios de comunicación tradicionales; promover y fomentar la creación de redes de solidaridad transnacionales; y coordinar actividades entre activistas y simpatizantes, de carácter local. El Ejercito Zapatista de Liberación Nacional (EZLN), de inspiración zapatista, fue el primer movimiento social en emplear Internet para transformar un insignificante levantamiento armado en una (casi) desconocida región de México (Chiapas, 1994) en un movimiento de resistencia global, frente al neoliberalismo. Junto a la contra-cumbre de Seattle, primera gran manifestación organizada y coordinada por Internet, donde más de 50.000 activistas hicieron fracasar la Cumbre de la Organización Mundial del Comercio (Seattle, Estados Unidos, 1999), son episodios "fundacionales" de lo que, a partir de entonces, debemos llamar nuevos movimientos sociales...
The study of social movements reaches a turning point with two important events in 20th century history. First, the fall of the Berlin wall in 1989 and the disappearance of communist regimes in USSR and its satellite states in eastern Europe. This meant the further development of capitalism all over the world, being neoliberalism the final stage. Second, the emergence of Internet, widespread in the nineties, a fantastic tool for activists. This fact, together with the spectacular development of new Information and Communications Technology (ICT) such as mobile phones or small video cameras, drove a deep revolution (and evolution) in social movements. They were able to use the net to spread all kind of information without traditional mass media, promote the creation of transnational solidarity networks and coordinate local activities between activists and sympathizers. The Zapatista National Liberation Army (EZLN), inspired by Zapata, was the first social movement to use the net to transform an insignificant armed uprising in a (almost unknown) region of Mexico (Chiapas, 1994) in a global and international resistance movement opposed to neoliberalism. This fact, together with the Seattle WTO protest, the first one organized and coordinated using the Internet where more than 50000 activists disrupted a WTO summit (Seattle, United States, 1999), are the foundation of what we call new social movements...
Description
Tesis de la Universidad Complutense de Madrid, Facultad de Ciencias de la Información, Departamento de Relaciones Internacionales e Historia Global, leída el 25-05-2018
Collections