Publication:
Desarrollo de un entorno de simulación en Python-Qt, para USVs y barreras de contención de vertidos marinos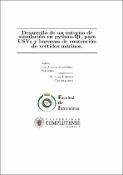 Authors
Advisors (or tutors)
Editors
Abstract
El problema de los vertidos marinos está siendo cada vez más preocupante. Existen muchas técnicas para recoger los vertidos marinos, en la mayoría de éstas se utilizan barreras de contención de vertidos marinos, para poder remolcarlos y llevarlos a un sitio en el que recogerlo. El despliegue de las barreras, depende de factores climáticos, corrientes marinas y la dirección del viento, así como también de la maniobra del barco que los arrastrará. Por otro lado el uso de vehículos no tripulados o robots de navegación, unido a éstas barreras para el remolque de vertidos marinos, es una alternativa interesante. Una herramienta informática se creó para simular la acción de arrastrar barreras unido a vehículos de superficie no tripulados y así tener simulaciones previas antes de hacer pruebas reales, este proyecto es la realización de una interfaz gráfica de ésta herramienta para facilitar su uso.
The problem of marine dumping is becoming more and more worrisome. There are many techniques to collect marine spills, in most of these are used marine spill containment barriers, to be able to tow and take them to a place to pick it up. The deployment of the barriers depends on climatic factors, marine currents and the direction of the wind, as well as the maneuver of the boat that will drag them. On the other hand, the use of unmanned vehicles or navigation robots, coupled with these barriers for the towing of marine spills, is an interesting alternative. A computer tool was created to simulate the action of drag barriers attached to unmanned surface vehicles and thus have previous simulations before doing real tests, this Project is the realization of a graphical interface of this tool to facilitate their use.
Description
Trabajo de Fin de Grado, Universidad Complutense, Facultad de Informática, Departamento de Arquitectura de Computadores y Automática, Curso 2018/2019