Publication:
Una propuesta para medir la calidad de la docencia virtual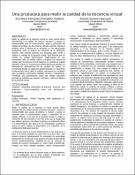 Advisors (or tutors)
Editors
Abstract
Medir la calidad de la docencia virtual es clave porque afecta directamente a la calidad del proceso educativo y porque es imprescindible para el reconocimiento, apoyo y valoración del trabajo del profesor. En los entornos virtuales, además, orienta al profesor sobre la eficacia de su actividad y a los responsables académicos sobre el sistema de valoración de la dedicación docente. Este artículo presenta una propuesta para medir y analizar la calidad de la docencia virtual. Está formada por un modelo de calidad bidimensional implementado en una herramienta web. El modelo unifica y organiza los criterios de calidad sobre la docencia virtual, dispersos en modelos de calidad educativa virtual, en una estructura bidimensional que permite una interpretación pluriaspectual de las medidas de calidad. La herramienta facilita su aplicación proporcionando un mecanismo semiautomático para medir la calidad, representar los resultados para su análisis y administrar múltiples usuarios y evaluaciones. Constituye una aproximación nueva que integra soluciones parciales ya probadas para mejorar, reconocer y valorar la eficacia de la docencia virtual. Nota: el artículo se acompaña del modelo-herramienta de evaluación de la calidad de la docencia virtual
Measuring the quality of virtual teaching is crucial as it directly affects the quality of the education process and because it is necessary for recognition, support, and appraisal of teachers' work. In virtual environments it also guides teachers as to the effectiveness of their activity and academic officers as to the system for teaching appraisal. This paper presents a proposal to measure and analyse the quality of virtual teaching. It comprises a two-dimensional quality model implemented on a web tool. The model unifies and organises the criteria for quality of virtual teaching, scattered across virtual teaching quality models, into a two-dimensional structure that enables a multi-aspect interpretation of quality metrics. Application of the tool is facilitated through the provision of a semiautomatic system to measure quality, represent results for analysis, and manage multiple users and assessments. It constitutes a new approach that integrated partial solutions already tested to improve, recognise, and appraise the effectiveness of virtual teaching.
Collections