Publication:
Documentation of glue pasta recipes for lining in Europe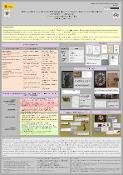 Advisors (or tutors)
Editors
Abstract
The objective of the project I+D+I "Materials and methods of pasta linings for the reinforcement of canvas paintings: documentation, functionality and conservation" (HAR2011-24217), funded by the Ministry of Economy and Competitiveness of Spain, is the study of traditional lining with glue paste from documentary sources (collection of recipes, materials and methods used), and through an experimental phase (accelerated aging tests, biodegradation and mechanical behaviour on lining samples). In this case we have focused on the information obtained in treatises, archives, reports, invoices and applications for registration of trademarks and patents of some materials, consulted in various museums and institutions. This information has been enlarged and compared to the analyses performed on lining adhesives used in some case studies selected for the project in these institutions because of their characteristics.
El objetivo del proyecto I+D+I "Materiales y métodos de entelados a la gacha como refuerzo de las pinturas sobre lienzo: documentación, funcionalidad y conservación"(HAR2011-24217), financiado por el Ministerio de Economía y Competitividad de España, es el estudio los tradicionales entelados con pasta de harina y cola a través de las fuentes documentales (recopilación de recetas, materiales y métodos usados), y a través de una fase experimental (ensayos de envejecimiento acelerado, biodegradación y comportamiento mecánico de las muestras enteladas). En este caso nos hemos centrado en la información obtenida de tratados, archivos, informes, facturas y formularios de patentes y marcas de algunos materiales, que se han consultado en diferentes museos e instituciones. Esta información ha sido ampliada y comparada con los análisis llevados a cabo en los adhesivos empleados en algunos casos de estudio seleccionados para el proyecto en esas instituciones por sus características.