Publication:
Inmunodeficiencias congénitas del receptor de antígeno de los linfocitos T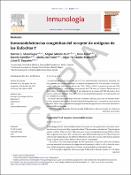 Authors
Garcillán Goyoaga, Beatriz de
Advisors (or tutors)
Editors
Abstract
Las inmunodeficiencias humanas del TCR son enfermedades autosómicas recesivas con baja prevalencia, caracterizadas por un defecto de expresión del TCR asociado a una linfopenia T selectiva (más leve en el caso de CD3γ, TCRα o CD247, o grave en el caso de CD3δ o CD3??). La ausencia congénita de componentes del TCR tiene un impacto diferencial en el desarrollo y función de los linfocitos T, que depende de la cadena del TCR afectada y de la especie, siendo en algunos casos diferente en los pacientes humanos en comparación con los modelos en ratones. El estudio del inmunofenotipo mediante citometría de flujo, junto con los estudios moleculares, proporciona información esencial para el diagnóstico y el tratamiento, que continúa siendo a día de hoy el trasplante de progenitores hematopoyéticos en los casos asociados a inmunodeficiencia grave.
T-cell receptor (TCR) immunodeficiencies of humans are low-prevalence autosomal recessive diseases characterized by impaired surface TCR expression and selective T lymphopenia (milder in CD3γ, TCRα or CD247 deficiency, and severe in individuals lacking CD3δ or CD3??). The congenital absence of TCR components has a differential impact on T-cell development and function depending on the affected TCR chain and on the species, with human patients being, in some cases, rather different from mouse counterparts. The study of the immunophenotype by flow cytometry, along with molecular analyses, provides essential information for diagnosis and treatment, which is still to date the transplant of hematopoietic progenitors in severe immunodeficiency associated cases.
Collections