Publication:
Mal pero acostumbráu: el humor negro en la historieta "Inodoro Pereyra", de Roberto Fontanarrosa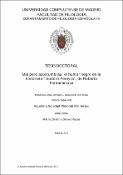 Files
Advisors (or tutors)
Editors
Publisher
Universidad Complutense de Madrid
Abstract
Esta investigación pone en relieve la universalidad de algunos aspectos esenciales de la historieta Inodoro Pereyra, de Roberto Fontanarrosa: el humor negro (y sus numerosos matices), la estética grotesca (en sus manifestaciones carnavalescas y abismales) y el absurdo. El análisis se aborda a partir de la poética que ofrece un material sobresaliente por su ejecución textual y gráfica y que merece una lectura atenta a la pulsión creadora ―vertiginosa y ecléctica― del humorista argentino. Sin dejar de lado su naturaleza intertextual, su atractivo poliédrico se manifiesta en las degradaciones en general, en la inquietante cercanía entre lo humano y lo animal, en la defensa de la dignidad y en un humorismo amargo que la recorre de manera transversal. Se analiza su estructura narrativa desde la psicología de los protagonistas, seres paradójicos y marginales que no se limitan a contar chistes, sino que se enajenan al intentar descifrar su mundo y abrirse paso en una realidad adversa e inestable. Estos rasgos ecuménicos permitirían, mediante una selección adecuada del material, su publicación a efectos de ser comprendida fuera de los límites de su país de origen. La tira relata la historia de un gaucho que (sobre)vive en medio de una pampa desolada y atemporal, junto a su descomunal mujer y su perro (que ostenta la capacidad de hablar). En este escenario esquivo, el gaucho interactúa con personajes de toda índole. Tanto la perspectiva del protagonista como la naturaleza de los encuentros generan comicidad y humorismo. Inodoro Pereyra es todo un referente en Argentina donde se publicó durante treinta y cinco años, hasta la prematura muerte de su autor. Hay un marcado contraste entre la repercusión que ha tenido fuera y dentro del país. Mientras que en la Argentina su éxito es equiparable a Mafalda de Quino, es prácticamente desconocida en el exterior...
This research highlights the universality of certain essential aspects of the comic strip Inodoro Pereyra, by Roberto Fontanarrosa: black humour (and its many nuances), grotesque aesthetics (in their carnivalesque and abysmal representations) and the absurd. The analysis is presented based on the poetics offered by an outstanding material ―in both textual and graphical execution― which deserves an attentive reading of the Argentinian humourist's vertiginous and eclectic creative drive. Without neglecting the intertextual nature of the comic strip, its polyhedral attractiveness is manifested in the degradations in general, as well as in the disturbing proximity between human and animal, in the defense of dignity and in the bitter humor that crosses it in a transversal way. The narrative structure of the comic strip is analyzed from the psychology of the main characters. These paradoxical and marginal beings are not just limited to telling jokes, but also alienated as they try to decipher their world and go through an adverse and unstable reality. By an adequate selection of the material, these ecumenical features would allow the adapted publication in order to be understood outside the limits of their country of origin. The comic strip tells the story of a gaucho who survives in a desolate and timeless pampa, together with his huge wife and his talking dog. In this elusive scenery, the gaucho interacts with all sorts of characters. Both the main character's perspective and the nature of the encounters generate comedy and humour...
Description
Tesis inédita de la Universidad Complutense de Madrid, Facultad de Filología, Departamento de Filología Española IV, leída el 07/07/2017
Collections