Publication:
Nanosistemas multicomponente basados en sílice mesoporosa para el tratamiento de la infección bacteriana y el cáncer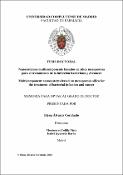 Files
Authors
Advisors (or tutors)
Editors
Publisher
Universidad Complutense de Madrid
Abstract
La presente Tesis Doctoral se centra en el diseño, desarrollo y evaluación biológica de nanomateriales inteligentes para el tratamiento de dos enfermedades complejas: la infección bacteriana y el cáncer, ambas con un gran impacto sanitario y económico en la sociedad actual.En la infección bacteriana, la rápida aparición de resistencias a antibióticos sigue superando el desarrollo de nuevos fármacos, lo cual hace que las terapias convencionales se vean limitadas por los mecanismos de defensa de las propias bacterias que van evolucionando a medida que se adaptan a los fármacos. Además, de problemas de acceso de los agentes antimicrobianos a zonas localizadas y una escasa acumulación en las mismas. Dificultades similares nos encontramos en el cáncer, en el que los tratamientos más habituales, como la quimioterapia, provocan muchos problemas de toxicidad en los pacientes. Esto se debe, sobre todo, a la naturaleza no selectiva de los agentes quimioterapéuticos, produciendo también resistencias y efectos secundarios graves, que a veces pueden ocasionar la suspensión del tratamiento. En ambas patologías, la nanotecnología se ha reivindicado como una herramienta poderosa y versátil para desarrollar nanotransportadores con la capacidad de transportar los fármacos selectivamente a sitios específicos...
This PhD Thesis focuses on the design, development and biological evaluation of smart nanomaterials for the treatment of two complex diseases: bacterial infection and cancer, both with a great health and economic impact in today's society.Regarding bacterial infection, the rapid emergence of antibiotic resistance continues to outpace the development of new drugs, which means that conventional therapies are limited by the defense mechanisms of the bacteria themselves, which evolve as they adapt to the drugs. In addition, problems of access of antimicrobial agents to localized areas and poor accumulation in these areas are also a problem. Similar difficulties are encountered in cancer, where the most common treatments such as chemotherapy cause many toxicity problems in patients. This is mainly ascribed to the non-selective nature of the chemotherapeutic agent, which also produces resistance and serious side effects that may even lead to the suspension of the treatment. In both pathologies, nanotechnology has been claimed as a versatile tool to develop nanocarriers with the ability to selectively target drugs to specific sites...
Description
Tesis inédita de la Universidad Complutense de Madrid, Facultad de Farmacia, leída el 30-03-2022
Collections