Publication:
Los sistemas expertos en las relaciones internacionales: aplicación a la clasificación de conflictos violentos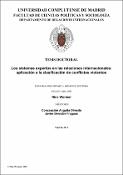 Files
Authors
Advisors (or tutors)
Editors
Publisher
Universidad Complutense de Madrid
Abstract
Combinar la llamada Inteligencia Artificial (IA) con las Relaciones Internacionales(RRII) es el objetivo principal de esta tesis. Esta combinación no es nueva, si bien tampoco es común en el área de la ciencia política. Durante más de 30 años diversos expertos de todo el mundo han estado usando técnicas de la IA para crear modelos de comportamiento internacional.A estas alturas es importante destacar que, coincidiendo con autores como Hudsono Schrodt, que debido a que el concepto de IA es tan amplio, exagerado y manidoque es más acertado utilizar el concepto de Modelo Computacional (MC). El problema reside en que la mayoría de los trabajos académicos los autores utilizan IA en vez de MC; esto nos lleva a utilizar los dos conceptos indistintamente. Durante las próximas páginas vamos a describir y a analizar las contribuciones más importantes realizadas por expertos uniendo estos dos campos: el de la IA con el de las RRII. Estos modelos se centran en un amplio número de problemas del mundo real, tales como el papel de las Naciones Unidas en los procesos de paz, la política exterior de China, la política exterior de Estados Unidos (EEUU) respecto a República Dominicana, la crisis de los misiles con Cuba, la predicción de relaciones entre dos países, la toma de decisiones de EEUU respecto a América Latina, la postura de la Unión Soviética respecto a Egipto en 1973, la política energética de Japón, la política exterior de EEUU respecto a Asia desde 1950, la predicción de guerras y crisis internacionales, etc...
Combining the so called Artificial Intelligence (AI) with International Relations (IR) is the main object of this thesis. This combination is not new, although it is also not common in the area of political science. For over thirty years different experts worldwide have been using techniques from the area of AI to create models of international behaviour. At this point it is important to point out, that, coinciding with authors like Hudson and Schrodt, we consider that the concept of AI is so broad so over-hyped and staled that it is better to use the concept of Computational Modeling (CM) instead.The problem is that in most academic works authors use the concept of AI instead of CM; this led us to use AI and MC equally. During the following pages we will describe and analyse the most important contributions made by experts linking both fields: AI and IR. These models focus on a large variety of real-world problems, including the role of United Nations in peace keeping, the Chinese foreign policy, U.S. policy toward the Dominican Republic, the Cuban Missile Crisis, predictions about the future relations of two countries, Japan´s U.s. decision making towards Latin America, Soviet behaviour towards Egypt in 1973, Japan´s energy decision policy, U.S. policy towards Asia since 1950, prediction of international wars and crisis, etc...
Description
Tesis de la Universidad Complutense de Madrid, Facultad de Ciencias Políticas y Sociología, Departamento de Relaciones Internacionales, leída el 12/12/2018
Collections