Publication:
Dashboard para jueces en línea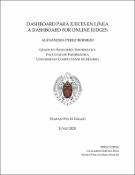 Authors
Advisors (or tutors)
Editors
Abstract
Los paneles de control o "Dashboards" son un tipo de interfaz gráfica de usuario que muestran de manera visual los indicadores clave de desempeño (KPI, key performance indicators) relevantes a un objetivo particular o un proceso de negocio. El presente proyecto consiste en la elaboración de un dashboard para el juez en línea ¡Acepta el reto! tanto para sus administradores como para los profesores que hacen uso de él. El diseño se ha realizado siguiendo la metodología de Diseño Guiado por Objetivos (DGO) y se ha implementado una aplicación web modular, lo cual permite que cada gráfica pueda ser añadida en diferentes lugares del portal.
Dashboards are a type of graphical user's interface, which shows, in a visual way, the relevant key performance indicator (KPI) to a particular purpose or a business process. The present project consists of developing a dashboard for "¡Acepta el reto!" an online judge, to be used for both, administrators and teachers. It has been designed following a Goal-Directed Design process and a modular website app has been implemented, which allows each graphic to be added to different site locations.
Description
Trabajo de Fin de Grado en Ingeniería Informática, Facultad de Informática UCM, Departamento de Ingeniería del Software e Inteligencia Artificial, Curso 2019/2020