Publication:
Aproximación a la práctica profesional en el proceso de enseñanza universitaria: la simulación clínica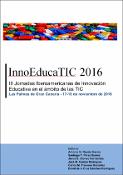 Advisors (or tutors)
Publisher
Grupo de Innovación Docente Aplicaciones Tecnológicas para la Enseñanza de las TIC (ATETIC)
Abstract
El Espacio Europeo de Educación Superior (EEES), determina que la universidad tiene la responsabilidad de formar profesionales competentes. La formación práctica debe capacitar a los estudiantes para su futura inmersión profesional. La innovación en el proceso de enseñanza y aprendizaje en Ciencias de la Salud, se ha visto incrementada por la utilización de simuladores que permiten crear una realidad muy próxima al día de la atención de los pacientes. Se parte de la experiencia de su utilización en la asignatura de Técnicas de Enfermería II de la Universidad de Las Palmas de Gran Canaria (ULPGC), además de la correspondiente revisión de las investigaciones realizadas sobre la simulación clínica en diferentes fuentes de información científica con el fin de establecer su utilidad. La educación práctica necesita proveer a los estudiantes de las habilidades necesarias para tener éxito en su futuro contexto profesional.
The European Higher Education Area (EHEA) determines that universities have the responsibility to educate competent professionals. Practice education needs to provide students with the necessary skills to succeed in their prospective professional environment. Innovative teaching and learning techniques in health sciences, using simulators allow to create a reality similar to the one found in real-life patient care. To assess the benefits of such techniques, their use is examined in the course 'Nursing Techniques II' of the Las Palmas de Gran Canaria University (ULPGC). Additionally, diverse scientific research on the subject is reviewed in depth.
Collections