Publication:
Utilización de sardinas fritas en aceite de oliva en el tratamiento de hipercolesterolemia experimental inducida por dieta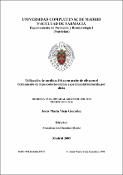 Authors
Advisors (or tutors)
Editors
Publisher
Universidad Complutense de Madrid, Servicio de Publicaciones
Abstract
La finalidad de esta tesis es valorar la eficacia en el tratamiento y prevención de hipercolesterolemia inducida por dieta del consumo de sardinas fritas en aceite de oliva. Después de un periodo de inducción hipercolesterolemiante con colesterol y bilis de buey, se estudiaron los efectos de dieta conteniendo sardinas fritas adicionadas o no con un 2% de colesterol y también el efecto de la grasa de pescado al variar el tipo de proteína dietaria. Se valoraron las modificaciones en la colesterolemia, perfil lipoproteico, contenido y proporción de la grasa hepática y otros tejidos, estudiándose además la excreción fecal de grasa, colesterol y ácidos biliares. Los resultados señalan que la aceptabilidad de las dietas conteniendo sardinas fritas fue similar a las de las dietas conteniendo caseina y aceite de oliva, reflejándose en tasa de crecimiento similares. Las dietas conteniendo sardinas fritas se muestran eficaces en el tratamiento y prevención de esta hipercolesterolemia experimental debido en particular a su contenido en ácido graso poliinsaturados de la familia n-3. sin embargo, la fuente proteica, proteína de sardinas fritas, ejerce respecto a la caseina +dl metionina un efecto potenciador de la acción hipolipemiante de los pufa n-3. Por lo tanto la inclusión de sardinas fritas en la dieta y no sólo de su grasa seria el tratamiento mas valido para la normalización del perfil lipoproteico
The purpose of this thesis is to assess the efficacy in the treatment and prevention of hypercholesterolemia induced by diet of the consumption of sardines fried in olive oil. After a hypercholesterolemic induction period with cholesterol and ox bile, the effects of diet were studied containing fried sardines added or not with 2% cholesterol and also the effect of fish fat by varying the type of dietary protein. Modifications in cholesterolemia, lipoprotein profile, content and proportion of liver fat and other tissues were assessed, and faecal excretion of fat, cholesterol and bile acids was also studied. The results indicate that the acceptability of the diets containing fried sardines was similar to that of the diets containing casein and olive oil, reflecting similar growth rates. Diets containing fried sardines are effective in the treatment and prevention of this experimental hypercholesterolemia, in particular due to its content of polyunsaturated fatty acids of the n-3 family. however, the protein source, fried sardine protein, exerts a potentiating effect on the lipid lowering action of pufa n-3 compared to casein + dl methionine. Therefore, the inclusion of fried sardines in the diet and not only their fat would be the most valid treatment for the normalization of the lipoprotein profile.
Description
Tesis de la Universidad Complutense de Madrid, Facultad de Farmacia, Departamento de Nutrición y Bromatología I (Nutrición), leída el 27-04-1992
Collections