Publication:
General dynamics in overlapping generations models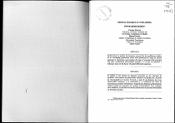 Files
Advisors (or tutors)
Editors
Publisher
Facultad de Ciencias Económicas y Empresariales. Instituto Complutense de Análisis Económico (ICAE)
Abstract
Se analiza en este trabajo las dinámicas generadas por las soluciones de equilibrio en un modelo de generaciones sucesivas con producción. El punto de vista adoptado es el inverso. Es decir, se parte de una dinámica dos veces diferenciable cualquiera, y se caracterizan y se construyen las clases de economías que generan esta dinámica. Se prueba que dinámicas arbitrariamente caóticas pueden ser generadas por modelos convencionales. Para conseguir estos resultados, se introduce una técnica basada en las ecuaciones diferenciales en derivadas parciales.
In this article we analyse the dynamics generated by the equilibrium solution in an overlapping generations model with production. We adopt an inverse approach to characterise and construct the class of economies that generates any twice continuously differentiable dynamics. To do this we introduce a technique based on the theory of partial differential equations
Citation
Arnold, V.A. (1974) , Équations Différentielles Ordinaires, (Moscou MIR). Arnold, V.A. (1980), Chapitres Supplémentaires de la Théorie des Equations Différetielles, (Moscou MIR). Benhabib, J. and R. Day (1982), "A Characterlzatlon of Erratic Dynamlcs in the Overlapplng Generatlons Model," Journal of Economic Dynamics and Control, 4, 37-55. Benhabib, J. and K. Nishimura (1985) , "Competitive Equilibrium Cycles," Journal of Economic Theory, 35, 284-306. Boldrín, M. and L. Montrucchio (1986), "On the Indeterminacy of capital Accuroulation Paths," Journal of Economic Theory, 40, 26-39. Debreu, G. (1974), "Excess Demand Functions" Journal of Mathematical Economics, 1, 15-23. Deneckere, R and S. Pelikan (1986), "Competitive Chaos," Journal of Economic Theory, 40, 13-25. Falconer K. (1990). Fractal Geometry. (John Wiley). Grandmont, J.M. (1985), "On Endogenous Competitive Business Cycles," Econometrica, 5, 995-1044. Li, T. and J. Yorke (1975), "Period Three Implies Chaos," American Mathematical Monthly, 82, 985-992. Madden, P. (1986), Concavity and Optimization in Microeconomics, (Qxford University. K., Blackwell). Mantel, R.R. (1974), "On the Characterization of Aggregate Excess Demand", Journal of Economic Theory, 7, 348-353. Sorger, G. (1992) "On the Minimum Rate of Impatience for Complicated Optimal Growth Paths". Journal of Economic Theory, 56, 160-179.